We are turning 100!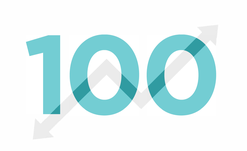 The Department of Economics at Stellenbosch University will be a hundred years old in 2020. We are planning a number of special events to celebrate this grand milestone, culminating in a weekend of celebration. Update: The centenary celebrations, planned for October, have been postponed until further notice due to COVID-19 (further details will follow in due course). Please visit the centenary website to travel through a hundred years of history with us, and for more information on the celebratory activities.
We are one of the oldest Economics departments on the continent and one of the largest in the university. We are dedicated to quality research and teaching, with a focus on economic issues pertaining to South Africa and Africa. For any information not on this site, please contact the [protected email address] .
Visit us on Facebook and sign up to receive our new quarterly newsletter.
Nico Katzke and team voted FM top analysts
Posted by Melt van Schoor on 2020-08-03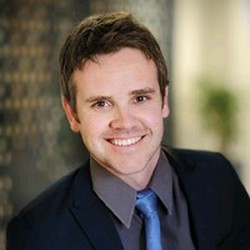 One of the Department's lecturers, Nico Katzke, along with a former master's student in the Department, Charlotte van Tiddens and their Prescient Securities teammate, Odwa Shilobo, won the Risk Analysis category and obtained second place in the Quantitative analysis category in the 2020 edition of the Financial Mail's Ranking the Analysts survey. This exceptional result flows from a survey in which domestic institutional clients of investment research and stockbroker firms complete a confidential questionnaire. The survey is regarded as the leading assessment of investment banks' stockbroking businesses in South Africa.
Debra Shepherd wins prestigious Harvard fellowship
Posted by Johan Fourie on 2020-07-19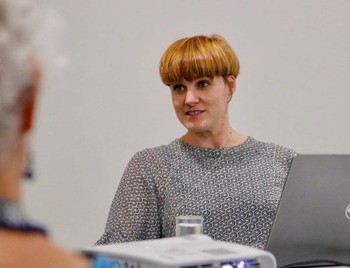 Debra Shepherd has recently been selected to be part of the prestigious Radcliffe Institute for Advanced Study fellowship at Harvard University in the United States of America.
Dr Shepherd, a lecturer at the Economics Department and Prof Pumla Gobodo-Madikizela, research chair in Social Change and Transformation at SU, will be part of 42 fellows representing six countries selected for the 2020–2021 cohort.
Radcliffe is Harvard University's institute for advanced study and each year, the institute hosts leading scholars, scientists, artists, and practitioners from around the world in its renowned fellowship program. This year there was nearly 1 400 applicants for the fellowship.
According to Shepherd she feels "incredibly lucky" to have received this opportunity at Harvard. "I believe that this fellowship will provide me with another lens through which to engage with diverse knowledge communities, as well as building upon and expanding the networks of my department and SU," says Shepard.
Read the full article here.
Our response to covid-19
Posted by Johan Fourie on 2020-04-15
At the end of March, South African president, Cyril Ramaphosa, announced a state of emergency and lockdown due to the covid-19 virus that has spread across the globe. Stellenbosch University has moved all teaching online, with classes to resume on 20 April.
Members of the Department, in addition to their online teaching duties, are also providing valuable input across many platforms to help combat the disease and its effects. The list below details some of these initiatives. The list will be updated periodically.
Mid-July
End of June
Mid-May
Early May
Mid-April
Willem Wilken wins Schumann medal
Posted by Johan Fourie on 2020-05-18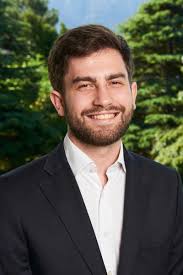 Willem Wilken is the 2020 winner of the prestigious CGW Schumann medal for the best postgraduate student in the Faculty of Economic and Management Sciences at Stellenbosch University. The Schumann medal is the highest student accolade in the EMS Faculty.
Willem was awarded five prizes for his academic achievements during his university career, including the Cloete medal for the best undergraduate student (over all three academic years) in Economics in 2016, best Honours student in Economics in 2017 (competing against students who offered only 120 credits) and the Cloete medal for the best postgraduate student in Economics in 2019.
Willem's high-level econometric skills resulted in him being selected a member of a team of four students to represent Stellenbosch University in 2018 at the highly prestigious World Championship of Econometrics presented by the University of Amsterdam. (Teams from the top universities in the world are invited to take part and Stellenbosch is the only representative from the African continent.) He was again selected in 2019 and this time the Stellenbosch team was placed under the top ten for the first time ever.
Willem has also been recognised for his academic excellence outside of the economics department. He was awarded a Mandela Rhodes Scholarship in 2017, elected an Allan Gray Orbis Foundation Fellow, and is currently studying towards an MPhil (Economics) at the University of Oxford with a Rhodes Scholarship.
Willem has been very active and successful in debating, in leadership positions and in serving the broader community. Regarding the latter, his coaching of the debating team of a high school in Kayamandi deserves special mention as well as volunteering at the Abdul Latif Jameel Poverty Action Lab Africa.
SU researchers lead multi-university study to track economic impacts of COVID-19
Posted by Johan Fourie on 2020-05-05
This week researchers at Stellenbosch University launched the Coronavirus Rapid Mobile Survey (CRAM), a collaborative research project across five universities which will track the social and economic impacts of COVID-19 in South Africa. The study will survey a nationally representative sample of 10,000 South Africans every month for the next six months using telephone surveys with R20 airtime incentives per respondent per wave. The survey will focus on unemployment, household income, access to healthcare, child hunger and access to government grants.
The Principal Investigator of the study, Dr Nic Spaull from the Economics Department at Stellenbosch, explained the rationale of the study and the collaborative nature of the work: "We know that the coronavirus pandemic is the largest economic shock in our lifetime and it's already having profound social impacts on our country. When we started seeing the data coming out of China, Italy and Spain we knew this was going to devastate our economy and trigger a global recession." This prompted Spaull and NRF Research Chair Servaas van der Berg to see what they could do: "I mean, we were all asking ourselves what we can do to help. What is the role of researchers when faced with a global pandemic and economic catastrophe? And maybe it's just because we're economists and when all you've got is a hammer everything looks like a nail, but we kept coming back to the same thing, we need good data. Practically all surveys have stopped because enumerators can't go into the field and collect data…There won't even be CPI data this year" Spaull said.
In order for the study to be nationally representative the researchers realized they'd need to use telephone surveys and to link the new study to a pre-existing survey. That would allow them to use the mobile phone numbers of existing sample participants: "In order to be nationally-representative we wanted to link into one of the existing surveys targeting income and social dynamics. So I reached out to colleagues at UCT to find out about the possibility of extending the National Income Dynamics Study (NIDS) which is a nationally representative panel survey focusing on income. We wanted to include a mobile phone 'update' of NIDS to see how things are changing on the ground. Long story short, the Department of Planning Monitoring and Evaluation (DPME) in the Presidency was incredibly helpful with facilitating permissions to use the data, as well as all the researchers at the Southern African Labour Development Research Unit (SALDRU) who were the implementing agent for previous waves of NIDS and now also co-investigators on the project and the implementing agent of NIDS-CRAM. It's really been incredible to see how collaborative everyone has been."
Fortuitously for the project, the Dean of the faculty of Economic and Management Sciences, Professor Ingrid Woolard, was one of the Principal Investigators of the NIDS study at UCT before she moved to Stellenbosch University. Prof Woolard says "NIDS has been collecting data on the same 28,000 people for more than a decade so we have very rich data on the life courses of these individuals prior to the COVID crisis. The CRAM data is going to provide a statistically rigorous picture of the devastation created by the virus in order to inform timeous and targeted policy interventions. It's been tremendously encouraging to see how quickly DPME agreed to making the sample available for this important work."
Cobus Burger wins international data science challenge
Posted by Melt van Schoor on 2020-03-20
Dr Cobus Burger, a postdoctoral fellow in the Department of Economics, was named the winner of an international data science challenge aimed at helping the South African government reduce road accident fatalities.

The competition – from October 2019 to early February 2020 – attracted 738 data scientists from across the continent and the world. Its objective was to build a machine learning model that accurately predicts when and where the next road incident will occur in Cape Town, using historic road incident data as well as traffic data from the Uber platform.
Read more about this story on the university's news page
Interdisciplinary collaboration considers road safety and social vulnerability
Posted by Melt van Schoor on 2020-03-03

A workshop recently held at STIAS, Road Safety, Public Health and Social Vulnerability, brought together specialists in micro-behaviour, road design, urban planning and public policy, as well as representatives of the traffic authorities in South Africa, to discuss research aimed at promoting a comprehensive and integral approach to road safety. A key theme integrating the interdisciplinary approach is the linkage between road safety and social vulnerability, a hitherto under-researched theme in South Africa.
The workshop was hosted by the Department of Economics in collaboration with colleages from Civil Engineering and the Department of Politics and Public Administration at the University of Konstanz in Germany.
Chancellor's Award awarded to Departmental Chair
Posted by Melt van Schoor on 2019-12-20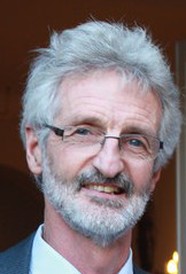 The Economic Department's Chair, Prof Andrie Schoombee, was honoured during a December graduation ceremony by being awarded a Chancellor's Award for professional services rendered to the university. This award recognises in particular an important milestone, namely that Prof Schoombe has been heading the Department of Economics for twenty years (out of the hundred years it has been in existence) and the excellent management of the department during this period, as widely admired and appreciated by the staff in the department and colleagues in the faculty. His leadership enabled the Department to play a pre-eminent role in high quality research, teaching and community service, while also undergoing significant transformation in terms of its race and gender composition.
Economics Department in partnership to offer free coding in Cape Schools
Posted by Melt van Schoor on 2019-12-11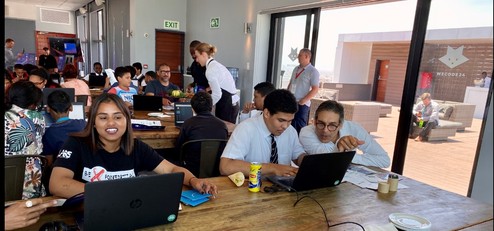 WeCode24, a fun computer programming platform founded by Prof Rachel Jafta of the Department of Economics in the Faculty of Economic Management and Sciences was launched at the Media24 Centre in Cape Town recently. The programme is a partnership between the Economics Department, Naspers (funder) and Media24 (digital internships and media partner). Opportunities to volunteer and learn on the programme also exist for all Economic and Management Sciences students at Stellenbosch University.

WeCode24 launched as a pilot project in 2017 at four historically disadvantaged Western Cape schools to give learners from Grade 8 to Grade 11, who had little or no maths skills, a chance to learn to write code. It is now expanding to more such schools and aims to reach more than 500 Western Cape learners in 2020. Learners who participate in the programme will engage with lesson material and with each other through an online platform and community, as well as at workshops and coding clubs. Some of the topics covered in the programme are graphics, animation, games and physical computing with programmable electronics.
More information, including the launch video is available at the project website. Also read more about the launch on the university's blog and on fin24.com.
Trade Wars break out at faculty teambuilding day
Posted by Melt van Schoor on 2019-11-12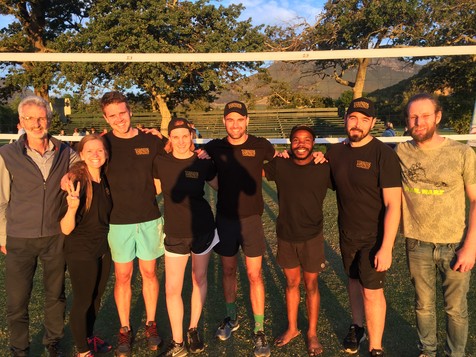 Continuing in the tradition of participating enthusiastically in the EMS faculty's annual teambuilding day volleyball competition, the Economics department managed to win third place out of ten teams this year. Pictured at the event are (left to right) Prof Andrie Schoombee (HoD), the team ("Trade Wars") consisting of Kara Dimitruk ("Yoda"), Nico Katzke ("Darth Vader"), Debra Shepherd ("Rogue One"), Hylton Hollander ("Han Solo"), Prince Changole ("The Force"), Dawie van Lill ("Kylo Ren") and Gideon du Rand ("#1 supporter"). Congratulations to the team, particularly for winning a hard-fought 3rd/4th place playoff match against #4 team, team "Unbalanced" from the accounting department.
Young Economist 2019
Posted by Melt van Schoor on 2019-11-05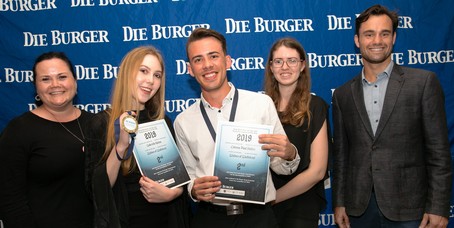 Congratulations to Gabriella Neilon and Colenso Holder ("Wolves of Wallstreet") from Stellenbosch University who placed as the top SU team, and second overall, in this year's Young Economist Competition (pictured above with lecturers Carina Smit, Rebecca Selkirk and Hylton Hollander). Each year, the Die Burger Young Economist Competition puts first-year economics students head-to-head with the aim to predict economic variables such as CPI inflation, real GDP growth, commodity prices, and exchange rates. The enthusiasm and insight shown by the students amidst a challenging and uncertain economic environment was indeed inspiring. In first place were Mpfuno Bilankulu, Mfumo Hatlane, and Lamine Diane ("Econ Agents") from the University of Cape Town, and, in third place, were Alistair Pyle, Anjali Jivan, and Caleb Matthews ("Yonks") from Stellenbosch University. Many thanks to our sponsor, Die Burger, for hosting a fun and lively awards ceremony at the Media24 Centre in Cape Town. To all of the remaining teams who placed in the top 10, well done on a fantastic effort - we were impressed with your insight and grit! Thank you all for being a part of the competition, and all the best as you continue forward in your studies, and in forging a deeper understanding of Economics!
(Thanks to Hylton Hollander for contributing this article and Natalie Gabriels for the photo.)
International Finance 4th Annual FNB Securities Trading Game
Posted by Melt van Schoor on 2019-10-08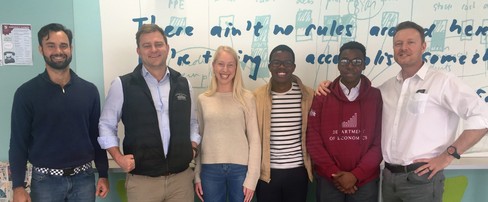 The winning SU team. From left to right: Hylton Hollander (Lecturer), Richard Levesque (FNB Securities), Luzaan Lesch, Mila Tshaka, Garikai Zvinavashe, Grant Rossiter (FNB Securities). Absent: Bruce Rouillard.
This year's International Finance FNB Securities Trading Game saw twenty postgraduate teams from Stellenbosch University, the University of Cape Town, and the University of Western Cape go head-to-head on a three-month trading simulation challenge utilising a demo trading platform. Teams invested a hypothetical USD 100 000 in real-time foreign exchange and global stock markets, with the goal of achieving the highest return. The SU winning team members received an FNB Securities stock broking account at zero cost plus R4 000 worth of FirstRand shares. They placed second overall, losing by a slim USD 688 margin to a UCT-based team. The objective of the exercise was for the students to test economic theory in the real world, understand international macro-developments, and encourage an investment mind-set.
Two Stellenbosch students awarded ESSA Founder's Medal Awards
Posted by Melt van Schoor on 2019-10-03
Two of the Department's students were each co-winners in their categories of the Economic Society of South Africa's Founder's Medal competition.
Timothy Köhler was the co-winner of the prize awarded for the best Honours research paper in South Africa completed in the 2018/2019 year. His research project was entitled "Economic Growth and Environmental Degradation: Investigating the Existence of the Environmental Kuznets Curve for Local and Global Pollutants in South Africa" and was supervised by Martin de Wit. In this work, Köhler investigated the dominant claim in the environmental economic literature that continued economic growth will eventually be beneficial for the environment, with specific reference to global and local air pollutants. Using OLS and ARDL regression techniques he tested 24 different models and could not find any evidence for such a claim for any of the selected pollutants. The implication is that environmental problems cannot be dealt with by relying on an economic policy focussed on growth alone, but would need specific environmental policy interventions.
In the Master's category, the prize was awarded to Reid Falconer for his work, entitled "Using satellite data to predict food security: a case study of Malawi", which was supervised by Dieter von Fintel. Reid adopted an interdisciplinary approach, adapting techniques originally developed by computer scientists at Stanford University and utilising transfer learning (a type of machine learning) to produce small area maps of food security indicators in Malawi. His modelling also takes spatial dependence in the data into account – a problem which is rarely addressed in existing literature. The maps can be used to identify food insecurity hotspots in Malawi and to assist in targeting input subsidies to the areas where they are most necessary - Malawi is one of the poorest countries in the world and has implemented one of the largest agricultural input subsidy programmes in the world to support smallholder production. With further development of the paper and the methods, the tools can be implemented to provide "real time" alerts to food insecurity in Malawi and other countries.
Three Economics professors deliver inaugural lectures
Posted by Melt van Schoor on 2019-09-04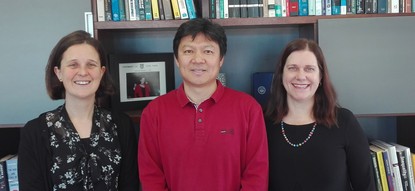 Not one or two, but three Economics professors delivered inaugural lectures during the month of August this year. The first was by the faculty dean, Prof Ingrid Woolard (right in picture), on the topic, "Mind the gap: income inequality in post-apartheid South Africa", followed by Prof Guangling Liu (middle in picture), titled "Macro-prudential policy and financial stability: generic versus sector-specific rules". The final lecture was by Prof Ronelle Burger (left in picture) on "Amplifying the voices of our communities".
(Click on the individual titles for further details, including abstracts, bios and full video recordings.)
Department hosts first ever Economics PhD conference
Posted by Melt van Schoor on 2019-08-16

The recently held two-day Economics PhD conference hosted by the Department and the Stellenbosch branch of the Economic Society of SA (ESSA) saw 23 PhD candidates from eight universities around the country presenting their doctoral research at Stellenbosch University. The program (available here, with downloadable papers) included presentations on a wide range of topics including a number of trade issues, rational altruism, risk preferences and job mobility, foreign demand and house prices, financial stress indicators and the effect of hyperinflation on asset poverty, to name but a few. Candidates who presented will have the further opportunity to submit their papers to the Studies in Economics and Econometrics journal for consideration for a special conference edition to be published in 2020.
The conference featured a keynote address by Dr Nara Monkam, Director of Research at the African Tax Administration Forum. Dr Monkam presented on her work around property tax and the potential it presents for African countries. We thank the sponsors, the Dean's office, ReSEP and ESSA. Next year's conference is set to take place during the Department's Centenary celebrations in October 2020 and promises to be a highlight on the calendar.
Ursula Wanza completes PLUS course
Posted by Melt van Schoor on 2019-06-28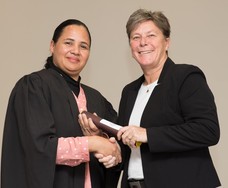 The Department of Economics is proud of their departmental assistant, Mrs Ursula Wanza, who attended and successfully completed a Professional Learnerships University Stellenbosch (PLUS) Programme Level 4 course in Business Administration. The PLUS programme is aimed at utilizing learnerships to enhance skills levels among Stellenbosch University personnel. The course is accredited by the Education, Training and Development Practices (ETDP) SETA and includes modules such as Self Management, Administration, Finance, Media Relationships and Business Ethics. The picture shows Ursula (left) at the certificate awarding ceremony held recently at the Devon Valley Hotel.
Stellenbosch team reaches finals of Econometric Games
Posted by Melt van Schoor on 2019-05-22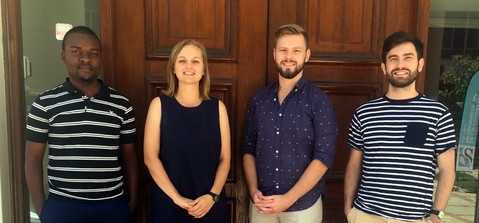 Every year, 30 top universities around the world participate in the Econometric Games hosted by the University of Amsterdam's study association for Actuarial Science, Econometrics & Operational Research (VSAE). The participating universities send delegations of four students who are presented with a technically challenging case study to solve in a limited time period. This year, Martin Mwale, Petro van Eck, Roan Minnie and Willem Wilken (pictured left to right) represented Stellenbosch University, the only African university at the event. They were supported by Gideon du Rand from the Department of Economics.

The team did extremely well by being selected into the top 10 and participating in a final round, effectively winning out over participating teams from a number of very highly acclaimed international universities (including Harvard, Cambridge and Oxford Universities). This is a first for Stellenbosch.

While the team prepared intensively beforehand, the specific case to be addressed always comes as a surprise, and teams have to work on very technically demanding problems under tight deadlines before presenting their results in a written report. The theme of this year's Games was "Climate Econometrics". In the first round, stretching over two days, teams had to employ the global carbon budget and data from the Global Carbon Project to forecast the growth of global atmospheric carbon concentration until the year 2100. For the finals, teams were presented with an extension of the first case and expected to deliver a full report and a presentation later on the same day. This time, teams had to disaggregate the growth in global atmospheric carbon concentration and allow for anthropogenic emissions by different countries or groups of countries. The model also had to be extended to capture the relationship between emissions and an indicator of economic activity.
Martina Mchenga wins ODI international fellowship
Posted by Johan Fourie on 2019-05-21
Stellenbosch PhD student Martina Mchenga is the winner of this year's Overseas Development Institute (ODI) international fellowship. Winners receive a two-year employment tenure in the public sector of various low and middle-income countries across the Pacific, Asia and Africa.
The ODI fellowship accepts applications from candidates across the world and sought after among candidates from top universities. This, according to Mchenga, makes the selection process competitive.
Since the fellowship places postgraduate economists and statisticians at the heart of policy-making, she explains that one experiences first-hand challenges and frustrations in policy-making. Mchenga has always wanted to be in a position where her research is used to inform policy and create targeted and effective interventions.
She is a health economist and a researcher with a passion in maternal health. Her award affords her the space to contribute to Malawi's ailing health system.
Read more.
Two Stellenbosch economists appointed to ministerial task team
Posted by Johan Fourie on 2019-04-19
Ronelle Burger and Kholekile Malindi have recently been appointed to serve on the ministerial task team on Human Resources planning. The previous human resource plan for health has lapsed so there is an urgent need to develop a new plan. Due to short time lines, pending NHI reforms and fiscal constraints, this will be challenging but important work. Ronelle and Kholekile are both in the needs and costs work stream, tasked with estimating the required size and skill composition of our country's health workforce over the next 10 years.
Top performing Economics students recognized
Posted by Melt van Schoor on 2019-04-15
The Department recently celebrated the achievements of its top students of the previous year by awarding a number of prizes at a function held at the US Museum.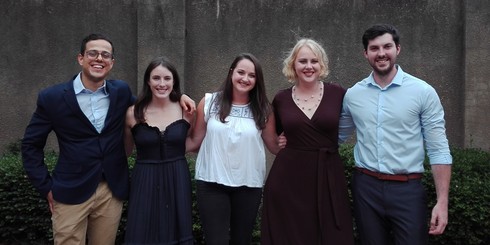 Top prizes for honours degree students went to Grace Bridgman for first place, while the second place prize was shared by four students, Euné Coetzee, Tiaan Meiring, Alex O'Riordan and Natalie Luyt. For Master's degree students, the first prize went to Reid Falconer(*) and second prize to Felix Stips. The Sampie Terreblanche prize for the best essay about inequality was also awarded to Grace Bridgman.
In the undergraduate category, prizes were awarded for best students in first year to Lauren Tsafandakis and Bradley Moorcroft, for best students in second year to Emma Dachs and Elizza Frey, and for best students in third year to Joshua Peebles(*) and Olivia Bernstein. (* These students also won the Cloete medals for best student in postgraduate and undergraduate categories.)
Nedbank and Old Mutual Budget Speech Competition 2018 Finalists
Posted by Melt van Schoor on 2019-02-01
We congratulate four Stellenbosch students who have been selected as finalists in the Nedbank and Old Mutual 2018 Budget Speech Competition (details on the competition available here):
Mr Schalk Willem Bothma (undergraduate)
Mr Diagoras Stathoussis (undergraduate)
Mr Marcel Bovijn (postgraduate)
Mr Remert Erasmus (postgraduate)

The winners will be announced at the gala event on the evening of the 20 February Budget Speech.

(2019 essay topics to follow after the event.) SU liaison: Hylton Hollander ([protected email address] )
Prof Sampie voted as Faculty's best lecturer during previous century
Posted by Johan Fourie on 2018-10-20
In celebration of the University's centenary, the Faculty of Economic and Management sciences invited its alumni earlier this year to nominate the best lecturer during the course of their studies. Almost 500 alumni participated and the vast majority voted for Prof Sampie Terreblanche as their best lecturer.
This one-off Alumni Best Lecturer award for the period 1929 to 2010 formed part of the Faculty's annual top lecturer competition this year, a competition that has been sponsored by Die Burger since 2011.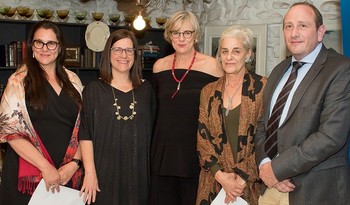 The name of Professor Sampie Terreblanche, who passed earlier this year, has become synonymous with the history of the Department of Economics at Stellenbosch University. When he finally retired in 2006 (officially already in 1996), Prof Sampie concluded an uninterrupted career of some five decades as lecturer in economics.
Prof Stan du Plessis, former Dean of the Faculty of Economic and Management Sciences and now SU's Chief Operating Officer, once remarked, "Professor Sampie Terreblanche is a towering figure in the 90-year history of the Faculty of Economic and Management Sciences at Stellenbosch University. One calculation shows that if you added up all the students in every lecture he gave during his career, the grand total would be about one million. It is, however, the quality of these lectures rather than their quantity which made such a lasting impression on generations of students."
Three of Prof Terreblanche's five children, Carine and Christelle Terreblanche and Dr Marié Kirsten, attended the top lecturers' prize-winning function last week.
In a tribute to Prof Sampie, Prof Andrie Schoombee, Chair of the Department of Economics, referred to the motivations given by alumni who voted for Prof Terreblanche. "These focussed on Prof Sampie's passion and enthusiasm, the fact that he challenged his students and made them think, his deep knowledge of his subject, and his interest in his students," he said.
"In my opinion his ability to teach his students critical thinking, was the one factor that made him stand out from many other top lecturers."
A website has been created to celebrate the life of prof Sampie Terreblanche.
Two economists recognised for effective media communication
Posted by Melt van Schoor on 2018-10-16
The university recently paid tribute to a number of academics who have been particularly effective in media communication in their fields of expertise. In the Economics Department, two of our colleagues received Media Thought Leaders 2018 Awards, awarded to those who either commented, took part in interviews, and/or wrote opinion editorials and in some way shaped thinking in our country via their contributions in the media.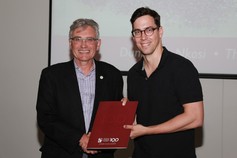 Prof Johan Fourie publishes regularly in Finweek and Rapport, on a diverse range of topics, such as the South African economy, development, markets and economic history. A recent article dealt with the costs of crime and pointed out that too little is understood about its causes and consequences in the South African context. A selection of his articles are available on his blog.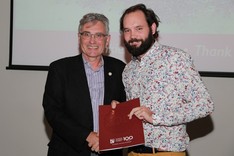 Dr Nic Spaull has become an authoratitive commentator on the South African education system, with recent articles pointing out that funding for basic education has declined in real terms, with devastating effects, and that none of the benefits of the Fourth Industrial Revolution could be realised by children lacking basic literacy skills, a pressing concern in South Africa. His articles can be read here.
Economics department hosts alumni events in New York and Boston
Posted by Johan Fourie on 2018-07-06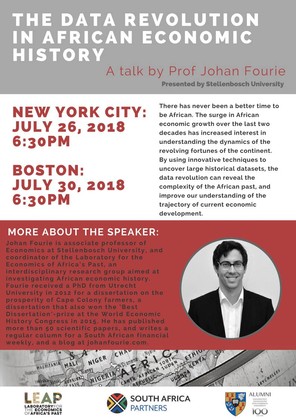 The Department will host two events for Stellenbosch alumni in July. The first will be held on 26 July at the ING office in New York. The second, on 30 July, will be held at the Residence Inn Cambridge in Boston. Prof Johan Fourie will deliver a short presentation on 'The data revolution in African economic history', showcasing some of the latest research contributions of members of the department. Several members and former students of the department will be present at both events, and we invite alumni and friends of the Department and Stellenbosch University to join us for either of the two evenings. Please send an email to Reanne Olivier to register.
Sampie Terreblanche's documents now online
Posted by Johan Fourie on 2018-07-06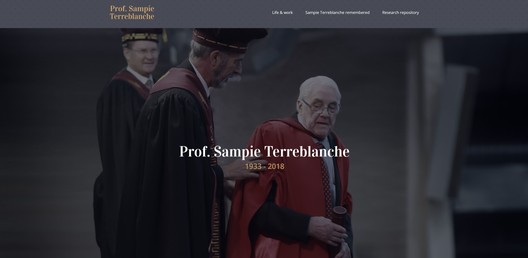 A new website – www.sampieterreblanche.org – now provides access to many of the late professor Sampie Terreblanche's documents. The prolific writings of prof Terreblanche, a legendary professor of Economics in the department who died on 17 February, has now been electronically preserved thanks to the efforts of his family and the department. The website includes links to media articles, books and hundreds of his unpublished monographs. More items will also be added over the next few months, including class notes and photographs. Plans for a bursary in his name are also in the final stages of development.
Professor Basil Moore dies at 84
Posted by Johan Fourie on 2018-03-14
Basil Moore, prominent Post-Keynesian economist, who had a more than 30 year involvement with Stellenbosch Economics, passed away peacefully on Thursday, 8 March on his farm Moore's End in the Banghoek Valley outside of Stellenbosch. As professor of Economics at Wesleyan University in the US, Basil visited Stellenbosch University in the mid-1980s and since then taught mainly on our postgraduate programmes up until 2012. He moved to South Africa (Stellenbosch) in 1992 and was appointed professor extraordinary in the department in January 2004. He taught macroeconomics and his favourite course was a postgraduate elective module on Post-Keynesian Macroeconomics. He was an enthusiastic lecturer who did his utmost to convince his students of the Post-Keynesian view of how the world functions.
Basil Moore's major contribution to Post-Keynesian macroeconomics was on endogenous money theory and more specifically his 1988 book Horizontalists and Verticalists: The Macroeconomics of Credit Money. This book has been particularly influential in advocating a "horizontalist" view of monetary policy, which is that in a credit-based economy, the money supply is endogenous and determined by demand, and not by central bank supply of high-powered money, as the "verticalists" believe.
Emeritus professor Sampie Terreblanche dies at 84
Posted by Johan Fourie on 2018-02-19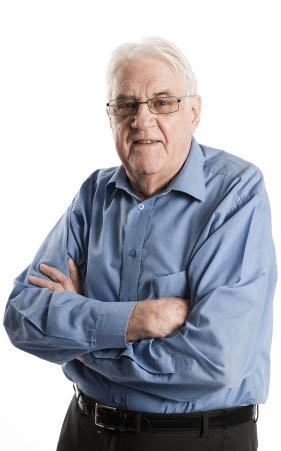 Stellenbosch emeritus professor Johannes "Sampie" Terreblanche, 84, passed away on Saturday, 17 February, following a brief battle with brain cancer.
To sum up Sampie Terreblanche simply as a 'maverick' intellectual would perhaps be unfair. His progression from an Afrikaner nationalist to an advocate of its demise to an ANC supporter to a fierce critic of the ruling party was certainly spectacular and often dramatic. But each step in his fifty years as public intellectual and political economist was preceded by deep soul-searching and intense discussions with his close friends and family about how to best serve the common good.
Prof Terreblanche may ultimately be remembered for his fearlessness in speaking truth to power, and a public intellectual who constantly reminded apartheid and post-apartheid South Africa of the injustice inherent in economic inequality. It did not matter whether it was the apartheid government during the era of turbulent clashes under former presidents John Vorster and PW Botha or the ANC government whom he accused of selling out its own marginalised constituency. His harsh judgement came fifteen years after he eagerly participated in unofficial "talks about talks" with the then banned ANC in exile, paving the way for formal negotiations and a political settlement.
Prof Terreblanche never really saw himself as a research professor, but rather as a lecturing one. Because of the relatively large volume of lectures that he presented to large classes, he received the dubious distinction of probably having more total "student points" (calculated as the amount of lectures given multiplied by the number of students present in every lecture) over the course of his term as lecturer and professor than any other lecturer in the history of the University. Roughly estimating, his student points should have reached one million if all students attended all of their lectures. Unfortunately a "leakage" of 150 000 to 200 000 points took place, and Prof Terreblanche stated that it was not in his power to solve the problem.
Many of the lectures given by Prof Terreblanche were controversial and therefore the Afrikaans students decided that the acronym SAMPIE could be applied to "Suid-Afrika se Mal Professor In Ekonomie" (South Africa's crazy Economics professor). Fortunately rumour also has it that a small group of students instead called him "Suid-Afrika se Meester Professor In Ekonomie" (South Africa's master Economics professor). In one famous incident, Prof Terreblanche, after a heated ,monologue, asked the students rhetorically 'Is julle kapitaliste of kommuniste?'. From the back, a lone voice responded: 'Ons is sampioene!'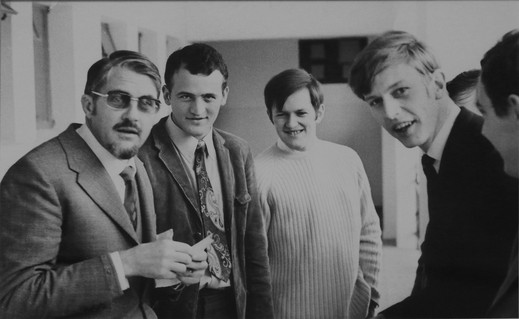 Like all his professorial predecessors in Economics at Stellenbosch, Prof Terreblanche also got involved with processes of policy formulation. Between 1973 and 1976 he was a member of the Erika Theron Commission that investigated issues related to the coloured population of South Africa. From 1979 until 1985 he was a member the Prime Minister's Council for Economic Advice. Terreblanche's involvement in the Theron Commission triggered his interest in the nature and causes of poverty.
The collection of books that Prof Terreblanche has published comprise mainly textbooks for the History of Economics and History of Economic Thought. Also, besides about twenty articles in academic journals and several chapters in books, his strong involvement in party politics is reflected in the hundreds of articles that he has written for local and foreign newspapers on political and economic issues in South Africa. For such political involvement he has received a great deal of criticism. Since retiring at the end of 1995, he has concentrated on studying the political and economical history of South Africa while still working as a part-time lecturer in the Department until 2011. He received honorary doctorates from the Universities of Free State, Pretoria and Stellenbosch.
Prof Terreblanche fell ill a year ago, shortly after his wife Ina (neé Smuts) of 58 years passed away. He was diagnosed with terminal brain cancer in September 2017.
He is survived by four daughters, Christelle Terreblanche, Marié Kirsten, Louise van Zyl and Carine Terreblanche, and a son, Sampie Terreblanche. He also have five grandchildren, Nina and Gerhard Kirsten, Willem and SJ van Zyl and Sam Dupper.
Centre for Competition Law and Economics
Posted by Melt van Schoor on 2018-02-02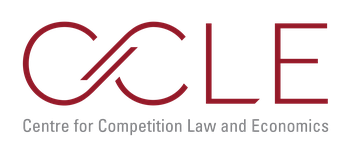 The newly established Centre for Competition Law and Economics within the Department of Economics has recently launched its own website - click here to visit it.
Why you need to do a postgraduate degree in Economics at Stellenbosch University
Posted by Melt van Schoor on 2016-12-12
Current students give their perspective on a postgraduate degree at Stellenbosch University.
Laboratory for the Economics of Africa's Past (LEAP) launched at Stellenbosch
Posted by Johan Fourie on 2015-05-30
​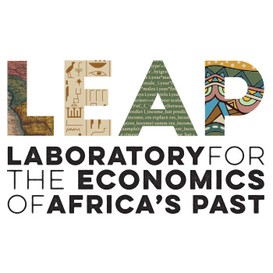 South African research into economic history has gained momentum with the launch of the Laboratory for the Economics of Africa's Past (LEAP) at Stellenbosch University on Wednesday, 27 May.
"LEAP brings together scholars and students interested in understanding and explaining the long-term economic development of Africa's diverse societies," says Dr Johan Fourie of the Department of Economics.
"Studying the historical development of an economy provides a context for existing challenges and a source of hypotheses to explain the trajectory of its evolution."
Read the full article here, visit the LEAP website, or like the LEAP Facebook page.
ReSEP website launched
Posted by Melt van Schoor on 2012-10-10

The Research on Socio-Economic Policy (ReSEP) group at the Department of Economics today launched a new website which will serve as a resource for researchers and policy-makers interested in issues surrounding socio-economic development in Southern Africa. Spearheaded by Professor Servaas van der Berg, the ReSEP group consists of members of the Department of Economics, contract research staff and graduate students, and developed around a long term research focus on issues of poverty, income distribution, social mobility, economic development and social policy. The new website contains information on ReSEP's involvement in various research projects, provides access to downloadable working papers, policy briefs, and other research reports produced by members of the ReSEP team, and will in time also provide access to further learning and training materials for policy-makers, researchers, students and others interested in policy debates. Visit the new website at http://resep.sun.ac.za/.
Login
(for staff & registered students)

BER Weekly
3 August 2020
The week started with news of the confirmation of the $4.3 billion (bn) loan from the International Monetary Fund (IMF) through its Rapid Financing Instrument. In the process of obtaining the loan, the government re-committed itself to the fiscal consolidation outlined in the supplementary budget presented in June, including to introduce zero-based...
Read the full issue

BER Weekly
3 August 2020
The week started with news of the confirmation of the $4.3 billion (bn) loan from the International Monetary Fund (IMF) through its Rapid Financing Instrument. In the process of obtaining the loan, the government re-committed itself to the fiscal consolidation outlined in the supplementary budget presented in June, including to introduce zero-based...
Read the full issue