Welcome to the Department
Welcome to the Department of Economics at Stellenbosch University. We are one of the oldest Economics departments on the continent and one of the largest in the university. We are dedicated to quality research and teaching, with a focus on economic issues pertaining to South Africa and Africa. For any information not on this site, please contact the [protected email address] .
Visit us on Facebook and sign up to receive our new quarterly newsletter.
Cape Town Carnival lifts local economy
Posted by Johan Fourie on 2018-03-15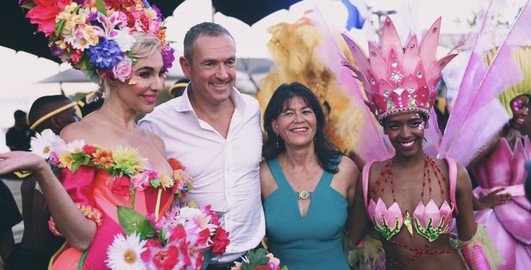 The Cape Town Carnival, a Social Impact initiative under the leadership of Department of Economicis professor Rachel Jafta, is a spectacular experience of colour, creativity and diversity for spectators who flock to the famous Green Point Fan Walk year after year. The team behind it all has been working tirelessly for close to a year to bring the 2018 edition, to be held on the 27th of March, to life.​
"The Cape Town Carnival reaches more than 5000 community members in the broader Cape Town Metropolitan area and some rural areas, as well as about 55000 spectators annually. It contributes about R41 million to the local economy, creates jobs and enterprise development, and skills transfer opportunities," says Prof Jafta who is Chair and founding trustee of the Cape Town Carnival. "The University is a knowledge partner sharing its expertise with participating communities. The Carnival also offers opportunities to gain research data and conceptualise research questions that can lead to collaborative solutions with the participating communities."
Read further here.
Professor Basil Moore dies at 84
Posted by Johan Fourie on 2018-03-14
Basil Moore, prominent Post-Keynesian economist, who had a more than 30 year involvement with Stellenbosch Economics, passed away peacefully on Thursday, 8 March on his farm Moore's End in the Banghoek Valley outside of Stellenbosch. As professor of Economics at Wesleyan University in the US, Basil visited Stellenbosch University in the mid-1980s and since then taught mainly on our postgraduate programmes up until 2012. He moved to South Africa (Stellenbosch) in 1992 and was appointed professor extraordinary in the department in January 2004. He taught macroeconomics and his favourite course was a postgraduate elective module on Post-Keynesian Macroeconomics. He was an enthusiastic lecturer who did his utmost to convince his students of the Post-Keynesian view of how the world functions.
Basil Moore's major contribution to Post-Keynesian macroeconomics was on endogenous money theory and more specifically his 1988 book Horizontalists and Verticalists: The Macroeconomics of Credit Money. This book has been particularly influential in advocating a "horizontalist" view of monetary policy, which is that in a credit-based economy, the money supply is endogenous and determined by demand, and not by central bank supply of high-powered money, as the "verticalists" believe.
Francois Groepe delivers special lecture
Posted by Johan Fourie on 2018-03-04

Prof Francois Groepe, Deputy Governor of the South African Reserve Bank (SARB) and honorary professor in the Department of Economics, delivered a special lecture in the department on Thursday, 22 February. His talk was on 'The special case of banks and the promotion of financial system-wide stability.'
Prof Groepe explained how mob psychology and mass hysteria could lead to a bankcrisis. Although some people believe this could happen randomly, there are empirical studies that suggest that these panics are related to the business cycle. "If depositors believe there is an impending downturn, they will anticipate difficulties in the banking sector and try to withdraw their funds which precipitates a crisis.
He mentioned, though, that the aggregate capital levels of South African banks – the total amount of capital that banks have available – are quite high, standing at 15/16% compared to a global average of 8%.
"Our banking system is quite resilient," said Prof Groepe.
Emeritus professor Sampie Terreblanche dies at 84
Posted by Johan Fourie on 2018-02-19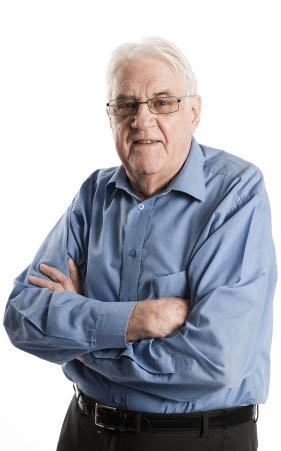 Stellenbosch emeritus professor Johannes "Sampie" Terreblanche, 84, passed away on Saturday, 17 February, following a brief battle with brain cancer.
To sum up Sampie Terreblanche simply as a 'maverick' intellectual would perhaps be unfair. His progression from an Afrikaner nationalist to an advocate of its demise to an ANC supporter to a fierce critic of the ruling party was certainly spectacular and often dramatic. But each step in his fifty years as public intellectual and political economist was preceded by deep soul-searching and intense discussions with his close friends and family about how to best serve the common good.
Prof Terreblanche may ultimately be remembered for his fearlessness in speaking truth to power, and a public intellectual who constantly reminded apartheid and post-apartheid South Africa of the injustice inherent in economic inequality. It did not matter whether it was the apartheid government during the era of turbulent clashes under former presidents John Vorster and PW Botha or the ANC government whom he accused of selling out its own marginalised constituency. His harsh judgement came fifteen years after he eagerly participated in unofficial "talks about talks" with the then banned ANC in exile, paving the way for formal negotiations and a political settlement.
Prof Terreblanche never really saw himself as a research professor, but rather as a lecturing one. Because of the relatively large volume of lectures that he presented to large classes, he received the dubious distinction of probably having more total "student points" (calculated as the amount of lectures given multiplied by the number of students present in every lecture) over the course of his term as lecturer and professor than any other lecturer in the history of the University. Roughly estimating, his student points should have reached one million if all students attended all of their lectures. Unfortunately a "leakage" of 150 000 to 200 000 points took place, and Prof Terreblanche stated that it was not in his power to solve the problem.
Many of the lectures given by Prof Terreblanche were controversial and therefore the Afrikaans students decided that the acronym SAMPIE could be applied to "Suid-Afrika se Mal Professor In Ekonomie" (South Africa's crazy Economics professor). Fortunately rumour also has it that a small group of students instead called him "Suid-Afrika se Meester Professor In Ekonomie" (South Africa's master Economics professor). In one famous incident, Prof Terreblanche, after a heated ,monologue, asked the students rhetorically 'Is julle kapitaliste of kommuniste?'. From the back, a lone voice responded: 'Ons is sampioene!'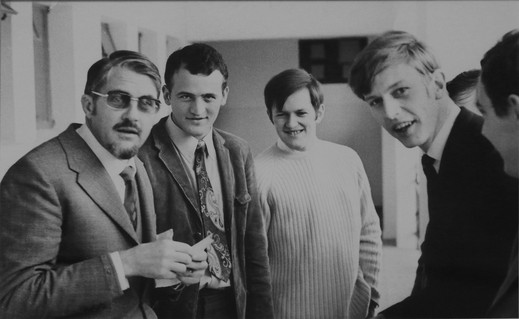 Like all his professorial predecessors in Economics at Stellenbosch, Prof Terreblanche also got involved with processes of policy formulation. Between 1973 and 1976 he was a member of the Erika Theron Commission that investigated issues related to the coloured population of South Africa. From 1979 until 1985 he was a member the Prime Minister's Council for Economic Advice. Terreblanche's involvement in the Theron Commission triggered his interest in the nature and causes of poverty.
The collection of books that Prof Terreblanche has published comprise mainly textbooks for the History of Economics and History of Economic Thought. Also, besides about twenty articles in academic journals and several chapters in books, his strong involvement in party politics is reflected in the hundreds of articles that he has written for local and foreign newspapers on political and economic issues in South Africa. For such political involvement he has received a great deal of criticism. Since retiring at the end of 1995, he has concentrated on studying the political and economical history of South Africa while still working as a part-time lecturer in the Department until 2011. He received honorary doctorates from the Universities of Free State, Pretoria and Stellenbosch.
Prof Terreblanche fell ill a year ago, shortly after his wife Ina (neé Smuts) of 58 years passed away. He was diagnosed with terminal brain cancer in September 2017.
He is survived by four daughters, Christelle Terreblanche, Marié Kirsten, Louise van Zyl and Carine Terreblanche, and a son, Sampie Terreblanche. He also have five grandchildren, Nina and Gerhard Kirsten, Willem and SJ van Zyl and Sam Dupper.
Centre for Competition Law and Economics
Posted by Melt van Schoor on 2018-02-02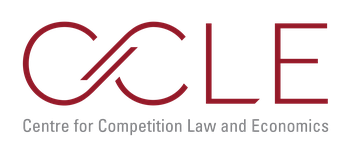 The newly established Centre for Competition Law and Economics within the Department of Economics has recently launched its own website - click here to visit it.
Makerere Fiscal Policy Workshop
Posted by Melt van Schoor on 2017-12-04
Following on from a coopearation agreement between the respective faculties, staff members from the School of Economics at Makerere University in Kampala (Uganda) and the Department of Economics at Stellenbosch University jointly hosted a fiscal policy workshop for around 25 participants comprising staff members, postgraduate students from the College of Business and Management Sciences of Makerere University and others. The workshop dealt with topics such as fiscal consolidation and fiscal frameworks; fiscal implications of regional economic integration in Southern Africa and East Africa; and the role of fiscal policy in reducing inequality and poverty in South Africa and Uganda. Feedback was very positive and all parties expressed a keen interest to strengthen collaboration of a similar nature, as well as of a research nature, between the respective institutions.

In the photo are Dr. Wilfred Lajul (Head of Department of Philosophy and Development Studies, Makerere University), Dr. Krige Siebrits and Prof. Ada Jansen (both from Economics, Stellenbosch University) Prof. Buyinza Mukadasi (Directorate of Research and Graduate Training, Makerere University), Prof. Estian Calitz (Stellenbosch University) and Ms. Corina Du Toit (Programme Manager of the African Doctoral Academy at Stellenbosch University). Also involved from the School of Economics, Makerere University were Dr Fred Matovu and Mr Issah Sekatawa. Dr Jaco Franken from the Graduate School of the Faculty of Economics and Management Sciences at Stellenbosch University played a pivotal role in the planning and delivery of the workshop.
"The Martha Effect" and other recent working papers
Posted by Melt van Schoor on 2017-12-04
A recent working paper by Drs Nic Spaull and Hendrik van Broekhuizen from the Research Group on Socio-Economic Policy (ReSEP) in SU's Department of Economics presents the interesting finding that in South Africa, girls generally do better than boys at school and at university in almost all fields of study. A good summary of these results and more information can be found in this article on the University's main news webpage.
Many more papers have recently been added to our working paper series. It is well known that old-age pensions provided by the state have an extended impact beyond merely providing for the needs of the retired recipients themselves. A paper by Chloé van Biljon looks at the effects of old-age pensions on children, finding some evidence of a gender bias, i.e. grants paid to female favour girls and similar for males and boys. There are also important implications for bargaining power and decisionmaking power, paticularly of women, in households.
In a different research area, Chris Garbers and Guangling Liu revisits the issue of capital controls, using an asymmetric two country model subject to negative foreign interest rate shocks. Different effects for inflow and outflow controls are identified: outflow controls can provide shock attentuation benefits while inflow controls can amplify shocks, pointing to the relative desirability of outflow controls.
Thomas Fagart joins Centre for Competition Law and Economics
Posted by Melt van Schoor on 2017-11-02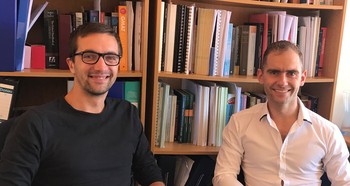 The Centre for Competition Law and Economics, newly established within the Department of Economics with support from the South African Competition Commission, is already active on the research front. From 1 October, Dr Thomas Fagart (left in picture) joined the Department as a post-doctoral researcher in the Centre for Competition Law and Economics. He was recently awarded the Aguirre-Basualdo Award from the chancellery of Paris Universities, a prestigious French prize awarded to a PhD dissertation in economics. Thomas completed his PhD in 2016 at the Paris School of Economics, working on the role of irreversibility of investment in competition (click here to read the abstract). In this work, Dr Fagart focused on topics such as pre-emption, uncertainty, environmental impacts of investment, and collusion. He joins a number of other academics at the Centre who are currently researching various issues relating to collusion.
Young Economist 2017 winners
Posted by Melt van Schoor on 2017-10-26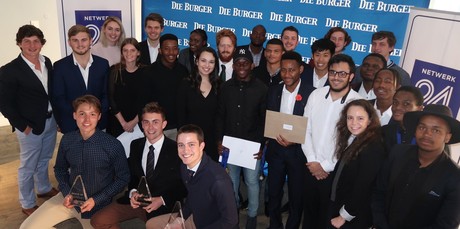 Stellenbosch made a complete sweep of the top three places in this year's Young Economist competition. Teams from three universities (Stellenboch, Cape town and Western Cape) took part attempting to predict economic variables such as the CPI inflation rate, exchange rates and real GDP growth rate. The photo, with the winners in front (Samuel Sendzul, Heinrich Schnackenberg and Pierre Lombard, team name The Byrdes), was taken at the prizegiving ceremony at the sponsor's (Die Burger) offices.
Ruan Erasmus wins 2017 Schroders essay competition
Posted by Melt van Schoor on 2017-10-20
Congratulations to Ruan Erasmus, a master's student in Economics at Stellenbosch, for delivering the best paper, entitled 'Stock Index Performance: The Role of Media Sentiment', in this year's Schroders essay competition. Other winners from the Economics department were Christiaan Bothma, Gideon du Rand, Marcel Bovijn and Lara Marais. The competition is organised by the Department of Statistics and Actuarial Science as part of an investment research initiative sponsored by Schroders, a London-based asset management company.
For further details, please read this article on the university's news page.
Liberty Mncube: Concentration is not a dragon from the past
Posted by Melt van Schoor on 2017-10-02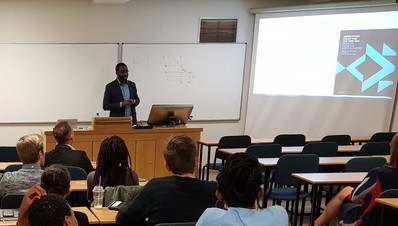 Dr Liberty Mncube, Honorary Professor in the Department of Economics and Chief Economist of the Competition Commission, recently delivered a lecture at the Department about the extent of concentration in South Africa and appropriate regulatory responses from a competition policy perspective. He reflected that there is a growing recognition in government policy of the need to address exclusions and restrictions to competition, which may be standing in the way of transforming the economy. Supra-normal profit (economic rents) combined with low levels of growth, innovation, employment and investment may be partly attributable to high concentration levels. While acknowledging that there is little agreement in academia on the link between concentration and performance (inefficiency), Dr Mncube stressed that the evidence still points to high levels of concentration in many South African product markets, and argued that there is therefore a need to combine deconcentration policies with research on particular affected markets with the aim of encouraging competition without interfering with "organic efficiencies of integration", i.e. the ability of larger firms to innovate and reduce costs. Competition authorities need to continue effective enforcement in cases of anticompetitive conduct and generally promoting competition, including advocating against regulation in other spheres of policy that may have anticompetitive effects, such as trade protectionism. The Department of Economics is in the final stages of establishing a Centre for Competition Law and Economics, with whom Prof Mncube will be involved in both a teaching and research capacity.
Rachel Jafta chats to Paul Krugman
Posted by Melt van Schoor on 2017-09-27
Prof Rachel Jafta recently met Paul Krugman in Beijing, and asked him a few questions, relating to trade, Africa and Economics. Watch the video:
Lewis McLean wins CGW Schumann and ESSA Founder's Medal
Posted by Johan Fourie on 2017-09-12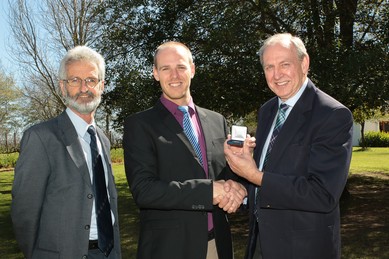 Lewis McLean was recently awarded the CGW Schumann medal for the best postgraduate Economic and Management Sciences student in 2016. Earlier this year, Lewis was a joint recipient of the Cloete medal for best postgraduate student in the Department, with an average of 84%.
Lewis was also recently awarded the ESSA Founder's Medal for the best Economics Masters research paper in South Africa. Lewis's research topic was "Unequal households, unequal schools and the consequences for education outcomes: A theoretical and empirical analysis" and the work was supervised by Prof Rulof Burger. The adjudicator described the work as "highly innovative, insightful, rigorous and of a strong intellectual calibre. What is also noteworthy is the extent to which the findings ultimately persuasively corroborate the predictions of the theoretical model." What makes Lewis's achievement even more remarkable is that he also won the Honours category prize last year, as far as we know the first student to win both categories.
Lewis will continue his academic career at Oxford University.
Chair in the Economics of Social Policy​​ renewed
Posted by Melt van Schoor on 2017-08-19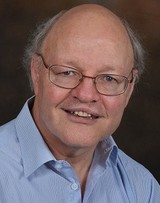 The NRF has recognised the excellent results of Prof Servaas van der Berg and his research group by renewing funding for his research chair in the economics of social policy for a further five years. The research group is justly proud of the high quality research outputs it has produced in focus areas such as education and health policy, and in particular the completion of 16 PhDs over the five year period.
Read more about this story on the University's news page and follow the group's research on the ReSEP webpage.
International Finance 2nd Annual FNB Securities Trading Game
Posted by Melt van Schoor on 2017-08-10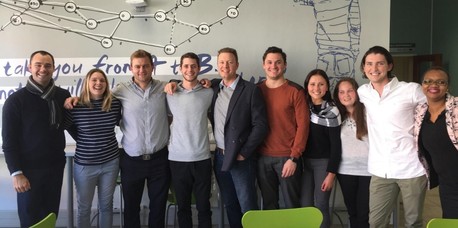 The winning team. From left to right: Hylton Hollander (Lecturer), Georgina Geach, Richard Levesque (FNB Securities), Richard Leigh, Grant Rossiter (FNB Securities), Chandler de Kock, Elzaan Smit, Tamsin Grove, James Wales, Zanele Zaza (FNB Securities).
This year's International Finance trading simulation saw our postgraduates awarded over R50 000 worth of First Rand shares and prizes. Seven teams went head-to-head in a trading experiment using a live FNB Securities trading simulator. Teams invested a hypothetical US$100 000 in real-time foreign exchange and global stock markets, with the goal of achieving the highest return over 3 months. The winning team members received an FNB Securities stock broking account at zero cost plus R4 000 worth of FirstRand shares. The objective of the exercise was for the students to test economic theory in the real world, understand international macro-developments, and encourage an investment mind-set. This year, both risk and honesty were rewarded.
Newsletter and open day video
Posted by Melt van Schoor on 2017-05-18
Please read our latest Newsletter for the latest news about the Department, including the opening of a new Centre for Competition Law and Economics and a story on four of our PhD students attending the Centre for the Study of African Economies conference, Oxford, U.K.
Also, watch the video below, featuring some of our staff and students, made for the University's open day initiative, to help expose aspiring students to what it means to study Economics.
Stellenbosch Students at Western Cape postgraduate conference
Posted by Melt van Schoor on 2017-05-18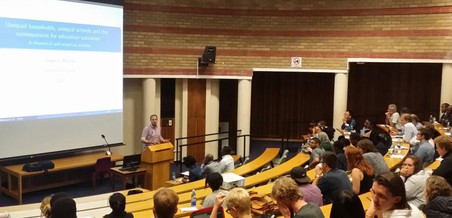 Postgraduate students at the Department of Economics participated in the annual postgraduate Economics conference held each year by one of the three universities in the Western Cape, with this year's conference being hosted by the University of the Western Cape. In the photo, Lewis McLean is presenting his work, entitled "Unequal households, unequal schools and the consequences for education outcomes: A theoretical and empirical analysis". Other presentations by Stellenbosch students were "Home language and socio-economic peer effects in South African primary schools" (Rebecca Selkirk), "Business, Investment, Consumption and Asset Price Cycles" (John Roelofse), "The impact of the Great Depression on colonial Africa" (Tim Ngalande) and "A policy review of petrol and diesel prices in South Africa: is the regulated position sensible?" (Rachel Theron).
Postgraduate Cloete medal shared
Posted by Johan Fourie on 2017-03-30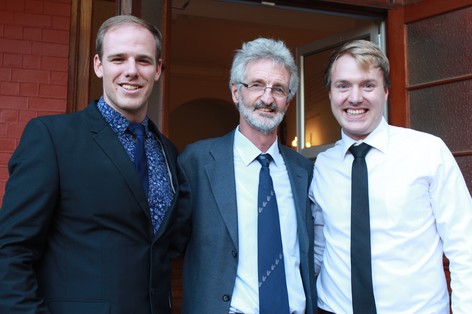 Announced at the annual departmental postgraduate ceremony on 29 March, Johann Pfitzinger (Honours, right) and Lewis McLean (Masters, left) shared the prestigious Cloete medal awarded to the best postgraduate student in 2016. Both achieved an exceptional mark of 84%.
Several other prize winners were also recognised, including prizes for the best first-year, second-year and third-year Economics students. Willem Wilken received the undergraduate Cloete medal for the best undergraduate performance.
The ceremony was kindly sponsored by Economic Research Southern Africa, and prizes to the best performing students were also awarded by Genesis Analytics and Bain Consulting.
Former student Monique Nsanzabaganwa receives honorary doctorate from Stellenbosch
Posted by Johan Fourie on 2017-03-24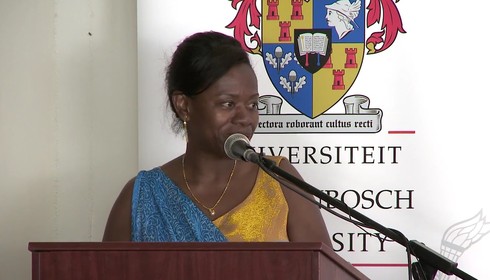 Stellenbosch alumnus Dr Monique Nsanzabaganwa received the degree Doctor of Commerce (DComm), honoris causa, on Friday, 17 March, for her role in developing academically sound economic policies for Rwanda, for her contribution in creating world-class institutions and for her actions to establish women as key players in the African economy. Among other roles, Nsanzabaganwa has acted as minister of trade and industry in Rwanda and deputy governor of the Rwandese National Bank.
"Contrary to an alarming trend of our age, Monique does not believe in alternative facts, or in sidestepping responsibility," said prof Stan du Plessis, who proposed the toast to Nsanzabaganwa. "When you speak to her about her decisions as a minister and as a deputy governor, she continuously emphasises accountability and clear leadership, which allows for the emergence of responsible citizenship."
"Rwanda, which once qualified as a failed state, has managed to rise out of the genocide ashes and prospered," said Nsanzabaganwa."At an occasion like this, I feel very humbled. I dedicate this honorary doctorate of commerce to those who aspire and work hard to make Africa and Africans reach their full economic potential."
Dr Nsanzabaganwa gave a special lecture on Monetary Policy in Rwanda on Thursday, 16 March in the Department of Economics. The full video of her inauguration and speech is available on YouTube.
Prof Rachel Jafta honoured
Posted by Melt van Schoor on 2017-03-08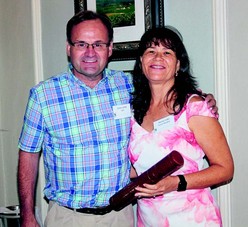 Dr Chris Jones, chair of the US's SRC chairpersons' club and head of the US unit for moral leadership (Theology) recently awarded Rachel Jafta, a professor in the Economics Department, with an award (awarded annually) recognising her exceptional service to the South African and international community.
Apart from being a professor in Economics, Rachel is also the chairperson of Media 24's board, and organises various community service projects, such as the Cape Town Carnival.
Rachel Theron wins first runner up at budget speech competition
Posted by Melt van Schoor on 2017-03-06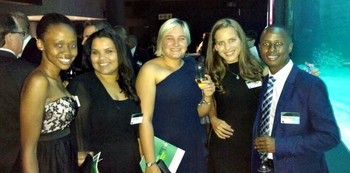 Congratulations to Rachel Theron (centre in picture), a current Master's student at the Department, who received 1st Runner Up prize at the annual Nedbank and Old Mutual Budget Speech Competition. For the postgraduate entry essay, students unpacked the viability of the proposed National Health Insurance (NHI) programme for South Africa given current fiscal constraints, and reviewed the appropriate funding models for rolling-out NHI. Based on international experiences, Ms Theron recommended a combination of direct taxes and payroll taxes, but stressed a prudent and gradual implementation over the medium to long term. In the meantime, a social health insurance system could facilitate the process toward universal health coverage.
Dr. Rashad Cassim: Unanswered questions in South African monetary policy
Posted by Melt van Schoor on 2017-03-03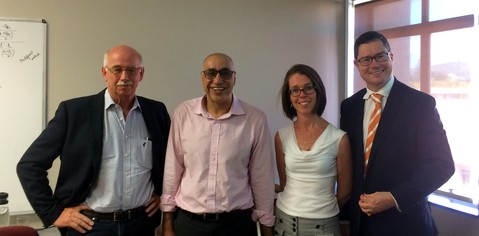 On Monday, Dr. Rashad Cassim (picture above, second from left, along with Prof Ben Smit, Dr Monique Reid and Prof Stan du Plessis), who is the Head of Research at the South African Reserve Bank and a member of the Monetary Policy Committee, visited the Department and delivered a wide-ranging and insightful talk on opportunities for mutual improved understanding between monetary policy practitioners and academic researchers. His presentation began by sketching out his view on the role of inflation targeting in South Africa and other countries, namely that it is more a way of communication than a specific policy theory, and it works by providing a nominal anchor that guides the theoretical framework on which decisions are made. He identified many areas where our understanding of monetary policy could be improved, such as the impact of financial regulation on the monetary transmission mechanism and the apparent flattening of the Phillips curve.
Why you need to do a postgraduate degree in Economics at Stellenbosch University
Posted by Melt van Schoor on 2016-12-12
Current students give their perspective on a postgraduate degree at Stellenbosch University.
Department mourns death of Prof Black
Posted by Johan Fourie on 2015-06-25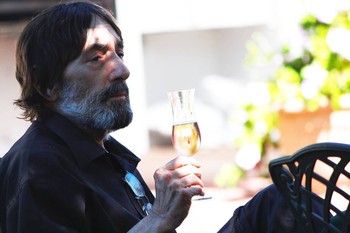 Philip Black, professor of Economics at Stellenbosch University between July 1988 and December 1990, passed away on 19 June 2015 at his home in Cape Town. Professor Black was well-loved by his students and highly respected by his peers. After his initial stint at Stellenbosch Economics, he was from 1993 contracted by the department on a part-time basis to teach and provide research supervision to postgraduate students. His association with Stellenbosch Economics was more formalised in 2002 when he was appointed as a Professor Extraordinary for a three-year period, still on a part-time basis. This appointment has numerous times been renewed and he was serving a term ending December 2016 at the time of his death.
During his career, Philip Black was also Jagger Professor of Economics and Director of the School of Economics at the University of Cape Town, as well as Professor and Head of the Department of Economics and Economic History at Rhodes University. In addition to his academic career, Professor Black held positions as Research Director of the Corporation for Economic Research (CER), of the Africa Institute for Policy Analysis and Economic Integration (AIPA), and of the South Africa Foundation. During the early 1990's he served on the Economic Advisory Council of State President FW de Klerk and was also a member of the Committee for Economic Sciences of the Human Sciences Research Council. He served a term in a part-time capacity as Chief Economist at the Department of Economic Development and Tourism of the Western Cape Government. Professor Black was also a past Managing Editor of the South African Journal of Economics and a past President of the Economic Society of South Africa.
Laboratory for the Economics of Africa's Past (LEAP) launched at Stellenbosch
Posted by Johan Fourie on 2015-05-30
​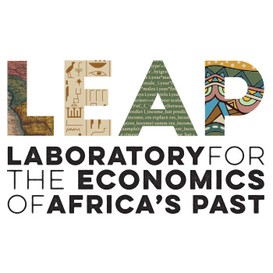 South African research into economic history has gained momentum with the launch of the Laboratory for the Economics of Africa's Past (LEAP) at Stellenbosch University on Wednesday, 27 May.
"LEAP brings together scholars and students interested in understanding and explaining the long-term economic development of Africa's diverse societies," says Dr Johan Fourie of the Department of Economics.
"Studying the historical development of an economy provides a context for existing challenges and a source of hypotheses to explain the trajectory of its evolution."
Read the full article here, visit the LEAP website, or like the LEAP Facebook page.
ReSEP website launched
Posted by Melt van Schoor on 2012-10-10

The Research on Socio-Economic Policy (ReSEP) group at the Department of Economics today launched a new website which will serve as a resource for researchers and policy-makers interested in issues surrounding socio-economic development in Southern Africa. Spearheaded by Professor Servaas van der Berg, the ReSEP group consists of members of the Department of Economics, contract research staff and graduate students, and developed around a long term research focus on issues of poverty, income distribution, social mobility, economic development and social policy. The new website contains information on ReSEP's involvement in various research projects, provides access to downloadable working papers, policy briefs, and other research reports produced by members of the ReSEP team, and will in time also provide access to further learning and training materials for policy-makers, researchers, students and others interested in policy debates. Visit the new website at http://resep.sun.ac.za/.
Login
(for staff & registered students)

BER Weekly
19 March 2018
Domestic economic data released last week was broadly upbeat. Manufacturing and mining output figures for January showed that annual growth in these sectors edged higher. In addition, business confidence in 2018Q1 registered its best level since the beginning of 2015. On the international front, data from the US revealed continued soft retail sales...
Read the full issue

BER Weekly
19 March 2018
Domestic economic data released last week was broadly upbeat. Manufacturing and mining output figures for January showed that annual growth in these sectors edged higher. In addition, business confidence in 2018Q1 registered its best level since the beginning of 2015. On the international front, data from the US revealed continued soft retail sales...
Read the full issue