Welcome to the Department
Welcome to the Department of Economics at Stellenbosch University. We are one of the oldest Economics departments on the continent and one of the largest in the university. We are dedicated to quality research and teaching, with a focus on economic issues pertaining to South Africa and Africa. For any information not on this site, please contact the department.
New: Visit us on Facebook and sign up to receive our new quarterly newsletter.
Postgraduate funding for 2017
Posted by Melt van Schoor on 2016-08-25
Application forms are now available for bursaries awarded by the department for postgraduate studies in Economics commencing in 2017. The closing date for these applications is 31 October and further details are available on the postgraduate funding page.
'Competition policy can help reduce inequality'
Posted by Johan Fourie on 2016-09-05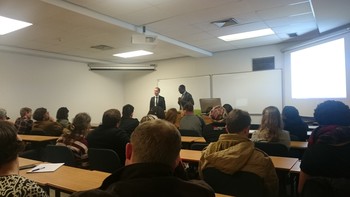 Prof Liberty Mncube, Honorary Professor in the Department and Chief Economist of the South African Competition Commission (see www.compcom.co.za), visited the Department from 30 to 31 August. Prof Mncube interacted extensively with students. He presented a lecture to the graduate class in industrial organisation, during which he shared his experience in South African merger analysis. He also presented a guest lecture to third-year students in competition policy. The feedback from students following these lectures has been very positive. Prof Mncube's visit culminated in his annual special lecture on Wednesday evening, during which he discussed the balance between inclusive economic growth and competition. He noted that 'competition policy is an essential tool in reducing inequality'. The Department is proud of our strong ties with the South African competition authorities, building on our reputation as a Department with a strong policy impact.
International Finance students compete in trading simulator
Posted by Melt van Schoor on 2016-05-17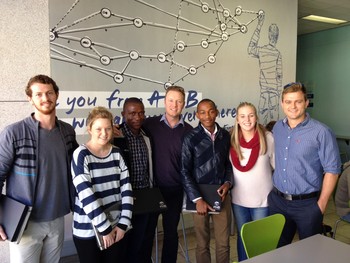 Six teams of the Department's postgraduate students studying International Finance recently went head-to-head in a trading experiment using a live FNB Securities trading simulator. Teams invested a hypothetical US$ 100 000 in real-time foreign exchange and global stock markets, with the goal of ahieving the highest return over 3 months. The winning team members received an FNB Securities stock broking account at zero cost plus R 1 000 worth of FirstRand shares. The objective of the exercise was for the students to test economic theory in the real world, understand international macro-developments, and encourage an investment mind-set.
Pictured are, from left to right: Marinus Louw, Sam White, Molefi Mokheti, Grant Rossiter (FNB Securities, Regional Manager), Zviko Manyumwa, Jamie Roseveare, Richard Levesque (FNB Securities, Portfolio Manager)
Click here to read more about the winning team's experience.
Top students recognized
Posted by Melt van Schoor on 2016-04-12
The Department recently recognized its top students for the 2015 academic year by awarding a number of prizes at a recently held function. The winners are:
First year Economics: Bruwer Ackermann (First) and Lyle Ressouw (Second)
Second year Economics: Connor Mc Cann (First) and Willem Wilken (Second)
Third year Economics: John Roelofse (First) and Dylon Botha (Second)
Honnours, both in first place: Christiaan Bothma and David Stephens (pictured above with Prof Andrie Schoombee)
Masters: Michael Ball (First) and Allan Davids (Second)
Co-authors commemorate Prof Philip Black
Posted by Melt van Schoor on 2016-03-08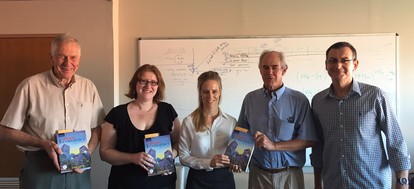 The co-authors of a popular Economics textbook, Public Economics, on 29 February presented a copy of the sixth edition to Franki Black, daughter of Philip Black. She also received copies to present to the other children of Prof Black, a former professor of economics at Stellenbosch University. He passed away in 2015 and was the initiator and founder editor of the book, of which the first edition appeared in 1999 and which is at present widely prescribed in South Africa as an undergraduate and postgraduate text book. On the photo appears, from left to right: Prof Estian Calitz (Emeritus Professor, Stellenbosch University, co-editor and author), Ms Janine Loedolff (Publisher, Oxford University Press), Ms Franki Black, Prof Tjaart Steenekamp (Emeritus Professor, University of South Africa, co-editor and author) and Dr Krige Siebrits (Senior Lecturer, Stellenbosch University, co-author).
Our team for Econometric Game 2016
Posted by Melt van Schoor on 2016-02-15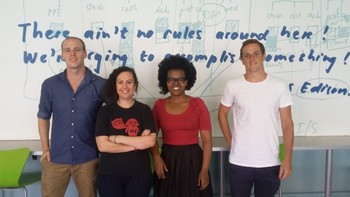 Stellenbosch University has again been selected to participate in the prestigious Econometric Game 2016, taking place on 6-8 April 2016 in Amsterdam. The competition, which attracts young econometricians from leading universities, takes place annually (visit
www.econometricgame.nl
). Each participating university sends a team of 4 students to work on a socially relevant case using econometric methods. Stellenbosch will be participating for the third time in 2016, showing off the technical capabilities of our students. Stellenbosch is the only African university to participate in the competition. The team for this year consists of Lewis McLean, Ingrid de Waal, Nwabisa Makaluza and Chris Garbers. Lewis and Ingrid are masters students in the Department and Nwabisa and Chris are doctoral students. We wish them good luck!
December Newsletter
Posted by Melt van Schoor on 2015-12-10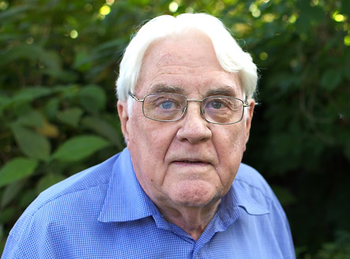 The Department's December 2015 newsletter reports on a number of important stories, including,
- Professor Sampie Terreblanche (pictured) was recently awarded an honourary doctorate by Stellenbosch University. The article briefly recounts the life and contributions of this well known figure with a substantial career at the Department.
- Professor Rachel Jafta has been awarded the Chancellor's Award in the category of Social Impact (Community Interaction) during this week's graduation ceremony, for the important role she has played in the Cape Town Carnival and for the ongoing work of the Rachel's Angel's Trust.
- The Department bids farewell to Professor Ben Smit, who was also director of the Bureau for Economic Research, as he is retiring in 2015. The newsletter contains an interview with him that explores his life, career and views on the South African economy.


- The Department welcomes two new lecturers from 2016, Hylton Hollander and Bokang Mpeta.
Read more about these stories by downloading the newsletter.
Cooperation with Göttingen University delivers first Master's degrees
Posted by Melt van Schoor on 2015-12-10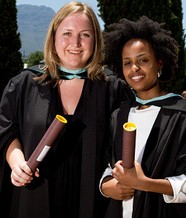 The first two students in the new double degree Masters programme in Economics between the University of Stellenbosch and the University of Göttingen in Germany received their degrees at the graduation ceremony on 10 December. Students in the programme spend a year in Stellenbosch doing coursework and another year in Göttingen doing coursework, and also write a mini-dissertation that is jointly supervised between the two universities. At the end of this they receive a MA degree in Development Economics from the University of Göttingen and an MCom degree in Economics from the University of Stellenbosch. They have to meet the compulsory course requirements from both universities, and in addition can select from a large number of electives in Economics, especially Development Economics.

The first graduates are Poppie Ntaka and Kate Rich, both from Stellenbosch. They will soon be followed by Göttingen students who only have to submit their theses, while more students from both universities are in the double degree pipeline. This cooperation with Göttingen builds on a long relationship between the two departments that has included student and staff visits and currently also a large international research project that in addition involve universities from the Netherlands and India.
Recent working papers
Posted by Melt van Schoor on 2015-11-25
A good number of new working papers have recently been added to the Stellenbosch Working Paper Series. Here are some of the latest ones:
In "When did globalization begin in South Africa?", Willem H. Boshoff and Johan Fourie identify the period when South African prices began to move in unison with those of the country's lead trading partner or, in other words, when South Africa globalized. They find an important role for the discovery of diamonds and gold and thereby establish the start of South Africa's globalization in the 1870s.
Johannes Kemp and Ben Smit estimate SA's potential output growth both before and after the global financial crisis using a multi-variate filter technique, finding that potential growth has declined to around 2.2% and that the biggest driver has been lower productivity growth, in "Estimating and explaining changes in potential growth in South Africa".
Finally, in "The long walk: Considering the enduring spatial and racial dimensions of deprivation two decades after the fall of apartheid", Ronelle Burger, Servaas van der Berg, Sarel van der Walt and Derek Yu apply the Total Fuzzy and Relative approach of Cheli and Lemmi to derive a poverty index with nine dimensions of deprivation, including education, employment, dwelling type, overcrowding, access to electricity, water, telephone, sanitation and refuse collection. They show that there has been a significant improvement in deprivation levels, but also that geography and race continue to play an important role in explaining patterns of deprivation.
Stan du Plessis: Tough choices need to be made
Posted by Melt van Schoor on 2015-10-26
Prof Stan du Plessis recently delivered a lecture as part of the University's Stellenbosch Forum series. In his lecture, he considered the likely paths of fiscal debt and sustainability over the medium term, concluding that some adjustment will be needed to prevent serious fiscal difficulty in coming years. Read more about the lecture here.
Young Economist 2015 winners announced
Posted by Melt van Schoor on 2015-10-20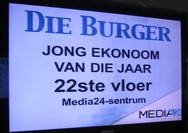 The Young Economist competition has recently concluded and the winning teams were announced at a function in Cape Town. The competition requires of first year students, in teams of two to four, to forecast various economic variables such as the GDP growth rate, inflation figures, the repo (interest) rate and exchange rates. Teams are awarded points for the accuracy of their forecasts once the official numbers are released. This year, the competition also included forecasts for the oil and gold prices. The competition is hosted by Stellenbosch University (and sponsored by Die Burger), open to first year students from UCT and UWC and this year proved very popular with over 80 teams entering.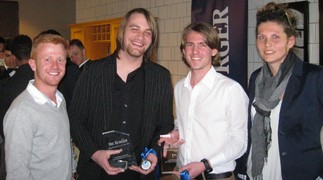 The winning team, calling themselves the Probable Economists and consisting of David Rodwell (second from left in picture) and Darryn Fourie (3rd from left), were from Stellenbosch, as were the runners-up (The Weathermen, consisting of AJ Dewberry, right and CLJ Foster, left). Asked about their experience, David said "I would say that the competition is a great initiative that broadens your understanding of economics outside of the classroom. In addition, the competition also shows that there is evidence of the theory taught in lectures", and Darryn, "The competition opened us up to the difficulty in predicting economic data. I think we have gained invaluable tools in realising the real-world applications of what we learn in the class room and has certainly enriched our problem solving skills."
PhD scholarship available
Posted by Melt van Schoor on 2015-10-15
A scholarship is available for a PhD student, who wishes to become a part of an inter-disciplinary
team working on a multi-year project with the title: "Influencing inflation via the inattentive general public: How effective is persuasive communication?" - Click here for details.
Orthofer on SA wealth and income
Posted by Melt van Schoor on 2015-10-02

Given high inequalities in South Africa, there has been much interest in the work of the French economist, Thomas Piketty, suggesting that capitalism naturally leads to a growing wealth-income ratio and unsustainable inequality. Recently, a PhD student at Stellenbosch, Anna Orthofer (supervisor: Stan du Plessis), investigated historical data for South Africa and found that in at least some respects, South Africa does not seem to match the rich countries analysed by Piketty, and that the wealth-income ratio has in fact been relatively low and stable. Read more about this in a recent Financial Mail article.
Media Economics 2015
Posted by Melt van Schoor on 2015-09-30
The Department of Economics at Stellenbosh University will host the 13th Annual Media Economics Workshop, 6-7 November. The workshop deals with all aspects of media economics and media policy, and the programme includes panel discussions on competition policy in media and the trade-offs between local and global forces in media. The workshop is an annual event, hosted in different locations each year, and this year marks the first on African soil. Prof Willem Boshoff and Prof Rachel Jafta are the local organizers, working with Prof Lisa George (Hunter and CUNY) and Prof Simon Anderson (Virginia). The target audience is academics, policymakers and those involved in the media industry.
Conference website: www.ekon.sun.ac.za/mediaeconomics2015
Contact: mediaecon@sun.ac.za
Economics of collusion discussed at ERSA workshop
Posted by Johan Fourie on 2015-09-29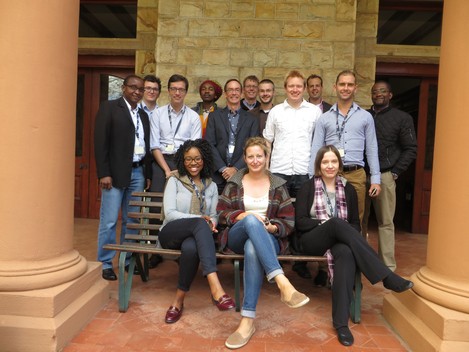 Prof Willem Boshoff organized an ERSA-sponsored workshop on industrial organization on 7 and 8 September in Constantia. The keynote speaker was Prof Joseph Harrington from the Wharton School at the University of Pennsylvania. The focus of the workshop was on the economics of collusion. The fourth organized since 2013, the IO workshop attracted various scholars from across Europe and the US in addition to local academics. This photo shows some of the participants. In the back row is Sanderson Abel (Nelson Mandela Metropolitan University), Ulrich Laitenberger (ZEW, Mannheim), Thomas Youle (Dartmouth), Phakama Senzangakhona (Walter Sisulu University), Joe Harrington, Corné van Walbeek (UCT), Johannes Paha (Giesen), Stefan Frübing (ZEW, Mannheim), Iwan Bos (Maastricht), Willem Boshoff and Tapera Muzata (Stellenbosch, PhD candidate). In the front row are Karabo Motaung (South African Competition Commission), Andrea Günster (ETH Zurich) and Sunel Grimbeek (South African Competition Commission).
Stellenbosch student wins Economic Society of SA (ESSA) prize for best honour's degree research project
Posted by Melt van Schoor on 2015-09-18
We congratulate Lewis McLean on winning the ESSA

2015 Founders' Medal for the best honour's degree research project submitted at South African universities.
Lewis McLean's project was entitled "Measuring policy uncertaincy: A News-Based Policy uncertaincy index for post-apartheid South Africa". The study expands on the policy uncertainty
literature with the construction of a Stanford-Group-inspired SA policy uncertainty (SAPU) index, built to suit SA's unique post-
Apartheid socio-economic-political context. The adjudicator commended Lewis's work for its originality, relevance, insightfulness and his careful motivation of design choices in constructing the index.
His supervisor for the project was Monique Reid.
Macro research team members at the 5th macro and monetary economics workshop
Posted by Melt van Schoor on 2015-08-31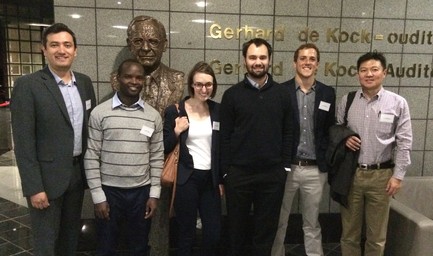 Last week some members of our macro research team, accompanied by the team leader Prof. Guangling Liu, attended the 5th macro and monetary economics workshop at the South African Reserve Bank. Dr. Fernando García Barragán (1st left) presented one of his recent research articles, titled 'The welfare cost of bank capital requirements with endogenous default', at the workshop. Mr. Hilary Patroba (2nd left) presented one of the chapters from his PhD thesis: 'South Africa's real business cycles: permanent versus transitory shocks'. Miss Anna Orthofer (3rd left) and Mr. Chris Garbers (5th left) are first year PhD students at the department. Anna's research topic is 'Savings, wealth and its distribution in South Africa' and Chris' thesis title is 'Essays on credit cycles'. They both presented their preliminary research results at the workshop. Dr. Hylton Hollander (4th left) obtained his PhD degree last December. The title of his thesis is 'Financial frictions and the business cycle'. He is currently holding a postdoctoral fellowship at the University of Cape Town. He presented one of the chapters from his thesis at the workshop as well.
LEAP members attend World Economic History Congress in Kyoto
Posted by Johan Fourie on 2015-08-11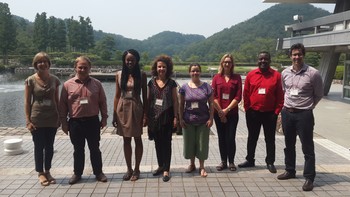 Several staff, students and research associates from the Department's Laboratory for the Economics of Africa's Past (LEAP) attended the trienniel World Economic History Congress in Kyoto, Japan from 3 to 7 August. Three Stellenbosch students, Jeanne Cilliers, Christie Swanepoel and Bokang Mpeta, presented their research. Johan Fourie, who completed his PhD at Utrecht University in 2012, was a finalist in the dissertation session on early-modern history. He was announced the winner of this category on Friday night at the closing ceremony.
At the conference venue in Kyoto: Martine Mariotti (research associate), Dieter von Fintel, Bokang Mpeta, Sophia du Plessis, Christie Swanepoel, Jeanne Cilliers, Abel Gwaindepi and Johan Fourie
Recent working papers
Posted by Melt van Schoor on 2015-08-03
The following working papers were recently added to the Stellenbosch Working Paper Series:
In "Do Long Memory and Asymmetries Matter When Assessing Downside Return Risk?", Nico Katzke and Chris Garbers test whether, on sector level, returns series in South Africa exhibit long memory and asymmetries and, more specifically, whether these effects should be accounted for when assessing downside risk. Their findings confirm that controlling for asymmetries and long memory in volatility models improve risk management calculations.
Hendrik van Broekhuizen uses aggregate data from the Higher Education Management Information System (HEMIS) to analyse the trends and underlying correlates of first-time enrolments and graduations in initial teacher education (ITE) programmes in the public higher education system between 2004 and 2013 in "Teacher Supply in South Africa: A Focus on Initial Teacher Education Graduate Production".
Finally, in "Identifying Periods of US Housing Market Explosivity", Mehmet Balcilar, Nico Katzke and Rangan Gupta apply several robust techniques that allow them to identify periods in which US housing prices start to exhibit explosivity with respect to its past behaviour and when it recedes to long term stable prices.
Department's research featured in University publication
Posted by Johan Fourie on 2015-07-24
Three studies undertaking by Economics Department researchers are featured in the latest Research at Stellenbosch University 2014 publication.
The first study, by Neil Rankin, investigates youth employment in South Africa. It shows that many young people lack work experience or other signals which can help employers identify their productivity.
A second study, undertaken by ReSEP, showed how Grade R increases instead of reduces inequality in South Africa's schooling system.
A third study, by Johan Fourie and Dieter von Fintel, shows how French Huguenots maintained an advantage in wine-making for nearly a century after their arrival at the Cape in 1688.
Department mourns death of Prof Black
Posted by Johan Fourie on 2015-06-25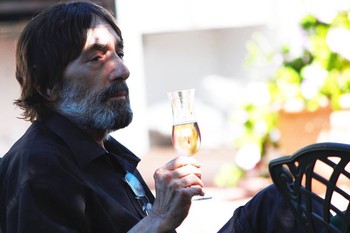 Philip Black, professor of Economics at Stellenbosch University between July 1988 and December 1990, passed away on 19 June 2015 at his home in Cape Town. Professor Black was well-loved by his students and highly respected by his peers. After his initial stint at Stellenbosch Economics, he was from 1993 contracted by the department on a part-time basis to teach and provide research supervision to postgraduate students. His association with Stellenbosch Economics was more formalised in 2002 when he was appointed as a Professor Extraordinary for a three-year period, still on a part-time basis. This appointment has numerous times been renewed and he was serving a term ending December 2016 at the time of his death.
During his career, Philip Black was also Jagger Professor of Economics and Director of the School of Economics at the University of Cape Town, as well as Professor and Head of the Department of Economics and Economic History at Rhodes University. In addition to his academic career, Professor Black held positions as Research Director of the Corporation for Economic Research (CER), of the Africa Institute for Policy Analysis and Economic Integration (AIPA), and of the South Africa Foundation. During the early 1990's he served on the Economic Advisory Council of State President FW de Klerk and was also a member of the Committee for Economic Sciences of the Human Sciences Research Council. He served a term in a part-time capacity as Chief Economist at the Department of Economic Development and Tourism of the Western Cape Government. Professor Black was also a past Managing Editor of the South African Journal of Economics and a past President of the Economic Society of South Africa.
Post-doc in Macroeconomics joins Department
Posted by Johan Fourie on 2015-06-10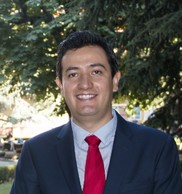 The Department is happy to announce that from the beginning of June 2015, Fernando García Barragán is a post-doctoral fellow within the macroeconomic research cluster of the Department. He has received his undergraduate degree in Economics from the University of Guanajuato, Mexico. He holds a PhD in Economics from the Catholic University of Milan, Italy and also spent time as a PhD student visiting scholar at the Observatoire Français des Conjonctures Économiques, France. His main research fields are macroeconomics, DSGE models, financial intermediation and central banking.
Stellenbosch alumni ranked high by Financial Mail
Posted by Johan Fourie on 2015-06-04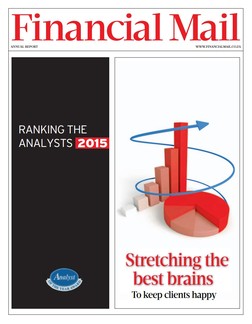 Economics professor and Dean of the Faculty of Economic and Management Sciences, Prof Stan du Plessis, has been ranked first in the category Innovative Research Analyst in the annual Financial Mail Ranking of financial market analysists. In addition to his position as Dean, Prof Du Plessis works part-time as an economist for Prescient Securities.
Published last week, the Financial Mail's rankings, now in their 38th year, recognise the most successful analysts in the financial industry in South Africa.
Other alumni of the Economics department performed equally well. Deanne Gordon was ranked fourth in the Investment Strategy category, Carmen Nel and Ilke van Zyl was ranked third in the Domestic Economic Trends category, with Sonja Keller ranked fourth in the same category. And DeWet Schutte was ranked second in the Hotels, Travel & Leisure category.
The full report can be downloaded here. We congratulate our alumni for their fine achievements this year.
Laboratory for the Economics of Africa's Past (LEAP) launched at Stellenbosch
Posted by Johan Fourie on 2015-05-30
​
South African research into economic history has gained momentum with the launch of the Laboratory for the Economics of Africa's Past (LEAP) at Stellenbosch University on Wednesday, 27 May.
"LEAP brings together scholars and students interested in understanding and explaining the long-term economic development of Africa's diverse societies," says Dr Johan Fourie of the Department of Economics.
"Studying the historical development of an economy provides a context for existing challenges and a source of hypotheses to explain the trajectory of its evolution."
Read the full article here, visit the LEAP website, or like the LEAP Facebook page.
Staff members complete PhDs
Posted by Johan Fourie on 2015-05-16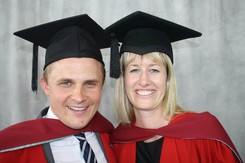 Three staff members, Dr Dieter von Fintel, Dr Krige Siebrits and Dr Marisa von Fintel, graduated with PhDs in Economics at Stellenbosch University's two most recent graduation ceremonies. In the December 2014 ceremony, Dieter von Fintel received his PhD under supervision of Rulof Burger, with Servaas van der Berg as co-supervisor. The title of his thesis was 'Spatial heterogeneity, generational change and childhood socioeconomic status: microeconometric solutions to South African labour market questions'. Krige Siebrits received his PhD under the supervision of Estian Calitz. The title of his thesis was 'The influence of fiscal policy-making frameworks on fiscal outcomes: evidence from the European Union'. Marisa von Fintel received her PhD under the supervision of Servaas van der Berg, with Rulof Burger as co-supervisor. Her title was 'Social Mobility in post-apartheid South Africa'. More information about their PhDs and the other graduates from the department are available here.
Stellenbosch participates in World Econometric Championship
Posted by Johan Fourie on 2015-05-04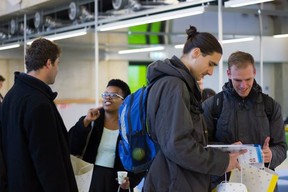 Stellenbosch University was selected as one of thirty teams to participate in the 2015 World Econometric Championships hosted by the VSAE of the University of Amsterdam from the 31st of March to the 2nd of April. This championship has attracted teams from Harvard University, Oxford University, and the University of Copenhagen. The participants are challenged to apply the latest econometric techniques on real world problems presented by the case maker and are adjudicated by a jury. This year the case dealt with longevity and longevity risk. On the first round, the teams were required to model the life expectancies and survival probabilities given the circumstance of the ageing population. In the second round, the top ten teams had to consider ways to mitigate risks in longevity. The Stellenbosch University team consisted of Laurie Binge, Nwabisa Makaluza (captain), Dimitar Popov and Lewis McLean (pictured). We congratulate the University of Maastricht on being the World Champions of Econometrics in 2015.
Stellenbosch hosts 2015 Postgraduate Conference
Posted by Johan Fourie on 2015-04-02
The Department of Economics is proud to host the annual Western Cape Economics Postgraduate Student Conference on the 15th of April 2015. During this conference, postgraduate students from the University of the Western Cape (UWC), the University of Cape Town (UCT) and the University of Stellenbosch (US) are given an opportunity to present their latest research to a wider audience. Please refer to the conference webpage for more information on the speakers and their topics.
Kuben Naidoo appointed as vice president of the South African Reserve Bank
Posted by Johan Fourie on 2015-04-01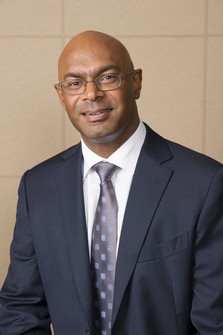 President Jacob Zuma has appointed Mr Kuben Naidoo as a Deputy Governor of the South African Reserve Bank for a period of five years with effect from 1 April 2015.
The position of Deputy Governor of the Reserve Bank became vacant when former incumbent Mr Lesetja Kganyago was appointed as Governor of the Reserve Bank with effect from 9 November 2014.
Mr Naidoo is currently serving as an advisor to the Governor of the Reserve Bank and a member of the Monetary Policy Committee. He has also performed work for the Development Bank of Southern Africa and has served as the acting head of the secretariat for the National Planning Commission. In addition, he is an
honorary professor
in the Department of Economics at Stellenbosch University.
Read the full article
here
.
Best students celebrated at Molenvliet ceremony
Posted by Johan Fourie on 2015-03-22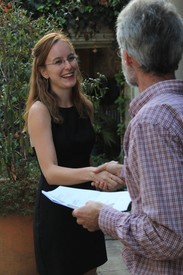 On Wednesday, 18 March the Department held its annual postgraduate welcome function at the historic Molenvliet guest house. Department head prof Andrie Schoombee (pictured) awarded the best undergraduate and postgraduate students of 2014 prizes for their excellent academic achievements during the previous year.
The prizes went to: Gerben Draaijer and Niel Botha (first year), Purishlin Govindasamy and Aldu Duminy (second year), Charne Thomson (pictured) and Katrien Smuts (third year), Lewis McLean and Reuben Foster (Honours), and Chris Hart and Wicus Coetzee (Masters).
Several Economic Research Southern Africa and Genesis Analytics prizes were also awarded to top-performing students.
Cobras player graduates with Honours degree in Economics
Posted by Johan Fourie on 2014-12-11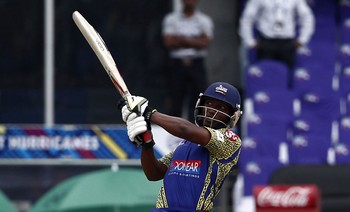 Omphile Ramela, a cricket player for the Cape Cobras, was one of the Honours (Economics) students to graduate at the December graduation ceremony yesterday. Ramela completed his undergraduate studies in PPE, did an Honours in Philosophy and then decided to do another Honours degree, this time in Economics. His Honours dissertation compared the economic institutions of the Zulu and Tswana cultures.
Ramela has had to juggle his course commitments with playing professional cricket. In September, he traveled with the Cape Cobras team to India to play in the Champions League. He has been a stalwart in the Cape Cobras RamSlam T20 team since then, scoring the third most runs in the team and 14th most in the tournament. The Department wishes him the best for the final match in the competition on Friday night.
Research project wins prestigious award
Posted by Johan Fourie on 2014-11-17
A joint research project on Youth Wage Subsidies in South Africa undertaken by researchers from the Universities of Stellenbosch, Witwatersrand and Yale, and lead by prof Neil Rankin, recently won the Poverty Reduction Equity and Growth Network (PEGNet) Best Practice award for 2014 at a conference in Lusaka, Zambia. A committee consisting of Ms Sonja Kurz from the Deutsche Gesellschaft fuer Internationale Zusammenarbeit (GIZ), Mr Shebo Nalishebo, from our local host, the Zambia Institute for Policy Analysis and Research (ZIPAR), Ms. Natascha Weissert from the German Federal Ministry for Economic Cooperation and Development (BMZ) and Mr. Manfred Wiebelt from the Poverty Reduction Equity and Growth Network (PEGNet) chose this project, over a number of others, because of its effective interaction between research and practice and its success in translating research into action. They were particularly impressed by how the research undertaken as part of this project helped inform the design and implementation of South Africa's Youth Employment Tax Incentive which was introduced in January 2014.
New Book by Prof Sampie Terreblanche
Posted by Melt van Schoor on 2014-09-19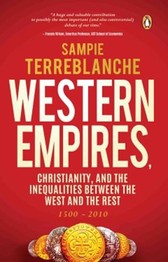 Sampie Terreblanche, retired professor formerly at the Department of Economics, has published a new book, "Western Empires, Christianity, and the Inequalities between the West and the Rest (1500-2010)".
In the book, Prof Terreblanche takes a critical look at how social and economic inequality became entrenched in the current world order dominated by Western powers since the 1500s. The book also offers the thesis that unrestrained capitalism lies at the root of the unsustainability of the Western empires, as they end up with growing inequality, environmental damage and unmanageable financial market risks.
The book is available at bookstores or at kalahari.net.
ReSEP website launched
Posted by Melt van Schoor on 2012-10-10

The Research on Socio-Economic Policy (ReSEP) group at the Department of Economics today launched a new website which will serve as a resource for researchers and policy-makers interested in issues surrounding socio-economic development in Southern Africa. Spearheaded by Professor Servaas van der Berg, the ReSEP group consists of members of the Department of Economics, contract research staff and graduate students, and developed around a long term research focus on issues of poverty, income distribution, social mobility, economic development and social policy. The new website contains information on ReSEP's involvement in various research projects, provides access to downloadable working papers, policy briefs, and other research reports produced by members of the ReSEP team, and will in time also provide access to further learning and training materials for policy-makers, researchers, students and others interested in policy debates. Visit the new website at http://resep.sun.ac.za/.
Login
(for staff & registered students)

BER Weekly
26 September 2016
In the domestic economy, the SA Reserve Bank (SARB) left the repurchase rate unchanged at 7% last Thursday. Contributing to the decision was annual headline inflation which moderated in August on the back of a 99c decline in the petrol price. The SARB also published its leading economic indicator for July on Tuesday, which indicated that the real economy...
Read the full issue

BER Weekly
26 September 2016
In the domestic economy, the SA Reserve Bank (SARB) left the repurchase rate unchanged at 7% last Thursday. Contributing to the decision was annual headline inflation which moderated in August on the back of a 99c decline in the petrol price. The SARB also published its leading economic indicator for July on Tuesday, which indicated that the real economy...
Read the full issue