Welcome to the Department
Welcome to the Department of Economics at Stellenbosch University. We are one of the oldest Economics departments on the continent and one of the largest in the university. We are dedicated to quality research and teaching, with a focus on economic issues pertaining to South Africa and Africa. For any information not on this site, please contact the [protected email address] .
New: Visit us on Facebook and sign up to receive our new quarterly newsletter.
Postgraduate Cloete medal shared
Posted by Johan Fourie on 2017-03-30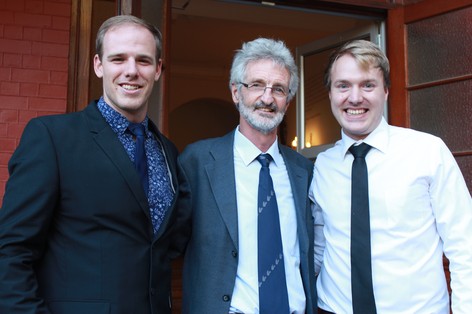 Announced at the annual departmental postgraduate ceremony on 29 March, Johann Pfitzinger (Honours, right) and Lewis McLean (Masters, left) shared the prestigious Cloete medal awarded to the best postgraduate student in 2016. Both achieved an exceptional mark of 84%.
Several other prize winners were also recognised, including prizes for the best first-year, second-year and third-year Economics students. Willem Wilken received the undergraduate Cloete medal for the best undergraduate performance.
The ceremony was kindly sponsored by Economic Research Southern Africa, and prizes to the best performing students were also awarded by Genesis Analytics and Bain Consulting.
Former student Monique Nsanzabaganwa receives honorary doctorate from Stellenbosch
Posted by Johan Fourie on 2017-03-24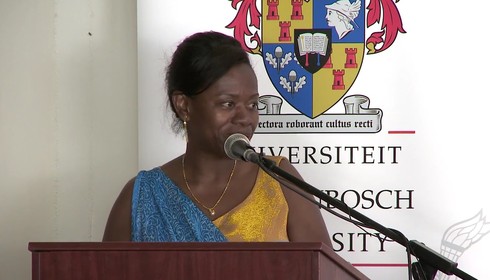 Stellenbosch alumnus Dr Monique Nsanzabaganwa received the degree Doctor of Commerce (DComm), honoris causa, on Friday, 17 March, for her role in developing academically sound economic policies for Rwanda, for her contribution in creating world-class institutions and for her actions to establish women as key players in the African economy. Among other roles, Nsanzabaganwa has acted as minister of trade and industry in Rwanda and deputy governor of the Rwandese National Bank.
"Contrary to an alarming trend of our age, Monique does not believe in alternative facts, or in sidestepping responsibility," said prof Stan du Plessis, who proposed the toast to Nsanzabaganwa. "When you speak to her about her decisions as a minister and as a deputy governor, she continuously emphasises accountability and clear leadership, which allows for the emergence of responsible citizenship."
"Rwanda, which once qualified as a failed state, has managed to rise out of the genocide ashes and prospered," said Nsanzabaganwa."At an occasion like this, I feel very humbled. I dedicate this honorary doctorate of commerce to those who aspire and work hard to make Africa and Africans reach their full economic potential."
Dr Nsanzabaganwa gave a special lecture on Monetary Policy in Rwanda on Thursday, 16 March in the Department of Economics. The full video of her inauguration and speech is available on YouTube.
Prof Rachel Jafta honoured
Posted by Melt van Schoor on 2017-03-08
Dr Chris Jones, chair of the US's SRC chairpersons' club and head of the US unit for moral leadership (Theology) recently awarded Rachel Jafta, a professor in the Economics Department, with an award (awarded annually) recognising her exceptional service to the South African and international community.
Apart from being a professor in Economics, Rachel is also the chairperson of Media 24's board, and organises various community service projects, such as the Cape Town Carnival.
Rachel Theron wins first runner up at budget speech competition
Posted by Melt van Schoor on 2017-03-06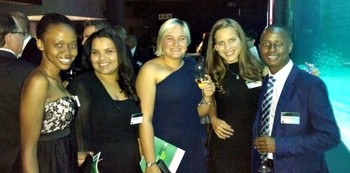 Congratulations to Rachel Theron (centre in picture), a current Master's student at the Department, who received 1st Runner Up prize at the annual Nedbank and Old Mutual Budget Speech Competition. For the postgraduate entry essay, students unpacked the viability of the proposed National Health Insurance (NHI) programme for South Africa given current fiscal constraints, and reviewed the appropriate funding models for rolling-out NHI. Based on international experiences, Ms Theron recommended a combination of direct taxes and payroll taxes, but stressed a prudent and gradual implementation over the medium to long term. In the meantime, a social health insurance system could facilitate the process toward universal health coverage.
Dr. Rashad Cassim: Unanswered questions in South African monetary policy
Posted by Melt van Schoor on 2017-03-03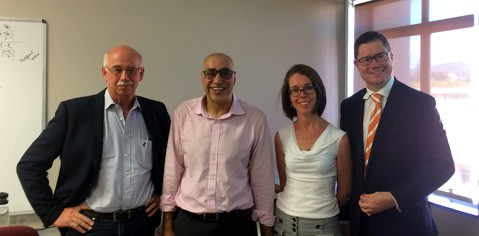 On Monday, Dr. Rashad Cassim (picture above, second from left, along with Prof Ben Smit, Dr Monique Reid and Prof Stan du Plessis), who is the Head of Research at the South African Reserve Bank and a member of the Monetary Policy Committee, visited the Department and delivered a wide-ranging and insightful talk on opportunities for mutual improved understanding between monetary policy practitioners and academic researchers. His presentation began by sketching out his view on the role of inflation targeting in South Africa and other countries, namely that it is more a way of communication than a specific policy theory, and it works by providing a nominal anchor that guides the theoretical framework on which decisions are made. He identified many areas where our understanding of monetary policy could be improved, such as the impact of financial regulation on the monetary transmission mechanism and the apparent flattening of the Phillips curve.
Why you need to do a postgraduate degree in Economics at Stellenbosch University
Posted by Melt van Schoor on 2016-12-12
Current students give their perspective on a postgraduate degree at Stellenbosch University.
2016 Young Economist Competition
Posted by Melt van Schoor on 2016-10-25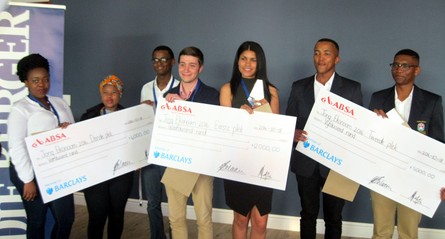 The winners of the 2016 Young Economist of the Year competition were announced recently at a function held at the Naspers offices in Cape Town. Die competition is held annually, is sponsored by Die Burger and managed by the Department of Economics at Stellenbosch University. First year economics students, in teams of two to four, must submit forecasts of economic indicators such as exchange rates, interest rates, gross domestic product (GDP) and inflation. The forecasts are then compared to official releases afterwards, and teams are awarded points for accuracy and motivations.
The the past number of years, the competition has been open to economics students at Stellenbosch University, the University of Cape Town and the University of the Western Cape. This year, in addition, a team from the military academy at Saldanha (also part of Stellenbosch University) took part, doing extremely well. These students, O.M.L. Gogo, E.T. Mmasa and T.P. Mpinyane of the team MA18, won second place in the competition. The team in first place was Economisticated (Kay-Dee Adams and Ashley Williamson) from Stellenbosch University and third place was The Golden Rule (Musa Mtsweni, Nosipho Ngubane and Nolwazi Naledi Zungu) from UCT.
Economics Honours students win Schroders awards
Posted by Melt van Schoor on 2016-10-06

As part of a collaboration between Schroders, a London-based asset management company, and the Department of Statistics and Actuarial Science at Stellenbosch University, ten awards were made recently for essays in finance and economics. The winners, who received R20 000, included two of our Honours students, Rebecca Selkirk (front, second from right on above photo) and Johann Pfitzinger (left). Johann's essay was awarded the highest mark, 90%.

Dr Nico Marais of Schroders, an alumnus of our department, played a pivotal part in the collaboration agreement. More details about the competition is available here, and see also this article on the university's news blog for more general details on the collaboration initative.
'Competition policy can help reduce inequality'
Posted by Johan Fourie on 2016-09-05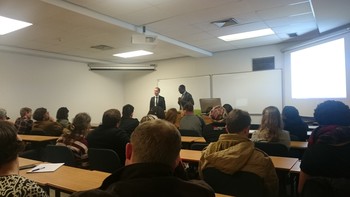 Prof Liberty Mncube, Honorary Professor in the Department and Chief Economist of the South African Competition Commission (see www.compcom.co.za), visited the Department from 30 to 31 August. Prof Mncube interacted extensively with students. He presented a lecture to the graduate class in industrial organisation, during which he shared his experience in South African merger analysis. He also presented a guest lecture to third-year students in competition policy. The feedback from students following these lectures has been very positive. Prof Mncube's visit culminated in his annual special lecture on Wednesday evening, during which he discussed the balance between inclusive economic growth and competition. He noted that 'competition policy is an essential tool in reducing inequality'. The Department is proud of our strong ties with the South African competition authorities, building on our reputation as a Department with a strong policy impact.
International Finance students compete in trading simulator
Posted by Melt van Schoor on 2016-05-17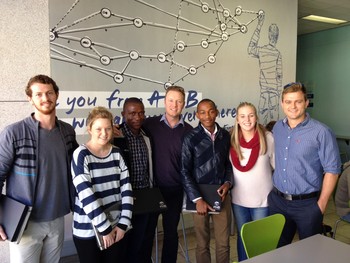 Six teams of the Department's postgraduate students studying International Finance recently went head-to-head in a trading experiment using a live FNB Securities trading simulator. Teams invested a hypothetical US$ 100 000 in real-time foreign exchange and global stock markets, with the goal of ahieving the highest return over 3 months. The winning team members received an FNB Securities stock broking account at zero cost plus R 1 000 worth of FirstRand shares. The objective of the exercise was for the students to test economic theory in the real world, understand international macro-developments, and encourage an investment mind-set.
Pictured are, from left to right: Marinus Louw, Sam White, Molefi Mokheti, Grant Rossiter (FNB Securities, Regional Manager), Zviko Manyumwa, Jamie Roseveare, Richard Levesque (FNB Securities, Portfolio Manager)
Click here to read more about the winning team's experience.
Top students recognized
Posted by Melt van Schoor on 2016-04-12
The Department recently recognized its top students for the 2015 academic year by awarding a number of prizes at a recently held function. The winners are:
First year Economics: Bruwer Ackermann (First) and Lyle Ressouw (Second)
Second year Economics: Connor Mc Cann (First) and Willem Wilken (Second)
Third year Economics: John Roelofse (First) and Dylon Botha (Second)
Honnours, both in first place: Christiaan Bothma and David Stephens (pictured above with Prof Andrie Schoombee)
Masters: Michael Ball (First) and Allan Davids (Second)
Co-authors commemorate Prof Philip Black
Posted by Melt van Schoor on 2016-03-08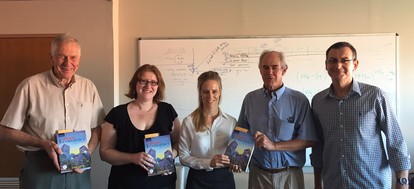 The co-authors of a popular Economics textbook, Public Economics, on 29 February presented a copy of the sixth edition to Franki Black, daughter of Philip Black. She also received copies to present to the other children of Prof Black, a former professor of economics at Stellenbosch University. He passed away in 2015 and was the initiator and founder editor of the book, of which the first edition appeared in 1999 and which is at present widely prescribed in South Africa as an undergraduate and postgraduate text book. On the photo appears, from left to right: Prof Estian Calitz (Emeritus Professor, Stellenbosch University, co-editor and author), Ms Janine Loedolff (Publisher, Oxford University Press), Ms Franki Black, Prof Tjaart Steenekamp (Emeritus Professor, University of South Africa, co-editor and author) and Dr Krige Siebrits (Senior Lecturer, Stellenbosch University, co-author).
Our team for Econometric Game 2016
Posted by Melt van Schoor on 2016-02-15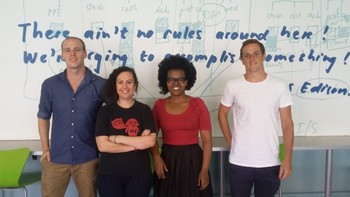 Stellenbosch University has again been selected to participate in the prestigious Econometric Game 2016, taking place on 6-8 April 2016 in Amsterdam. The competition, which attracts young econometricians from leading universities, takes place annually (visit
www.econometricgame.nl
). Each participating university sends a team of 4 students to work on a socially relevant case using econometric methods. Stellenbosch will be participating for the third time in 2016, showing off the technical capabilities of our students. Stellenbosch is the only African university to participate in the competition. The team for this year consists of Lewis McLean, Ingrid de Waal, Nwabisa Makaluza and Chris Garbers. Lewis and Ingrid are masters students in the Department and Nwabisa and Chris are doctoral students. We wish them good luck!
December Newsletter
Posted by Melt van Schoor on 2015-12-10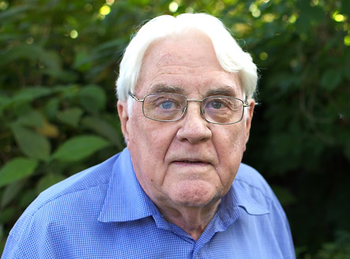 The Department's December 2015 newsletter reports on a number of important stories, including,
- Professor Sampie Terreblanche (pictured) was recently awarded an honourary doctorate by Stellenbosch University. The article briefly recounts the life and contributions of this well known figure with a substantial career at the Department.
- Professor Rachel Jafta has been awarded the Chancellor's Award in the category of Social Impact (Community Interaction) during this week's graduation ceremony, for the important role she has played in the Cape Town Carnival and for the ongoing work of the Rachel's Angel's Trust.
- The Department bids farewell to Professor Ben Smit, who was also director of the Bureau for Economic Research, as he is retiring in 2015. The newsletter contains an interview with him that explores his life, career and views on the South African economy.


- The Department welcomes two new lecturers from 2016, Hylton Hollander and Bokang Mpeta.
Read more about these stories by downloading the newsletter.
Cooperation with Göttingen University delivers first Master's degrees
Posted by Melt van Schoor on 2015-12-10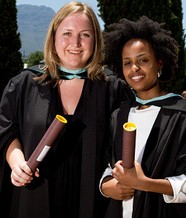 The first two students in the new double degree Masters programme in Economics between the University of Stellenbosch and the University of Göttingen in Germany received their degrees at the graduation ceremony on 10 December. Students in the programme spend a year in Stellenbosch doing coursework and another year in Göttingen doing coursework, and also write a mini-dissertation that is jointly supervised between the two universities. At the end of this they receive a MA degree in Development Economics from the University of Göttingen and an MCom degree in Economics from the University of Stellenbosch. They have to meet the compulsory course requirements from both universities, and in addition can select from a large number of electives in Economics, especially Development Economics.

The first graduates are Poppie Ntaka and Kate Rich, both from Stellenbosch. They will soon be followed by Göttingen students who only have to submit their theses, while more students from both universities are in the double degree pipeline. This cooperation with Göttingen builds on a long relationship between the two departments that has included student and staff visits and currently also a large international research project that in addition involve universities from the Netherlands and India.
Department mourns death of Prof Black
Posted by Johan Fourie on 2015-06-25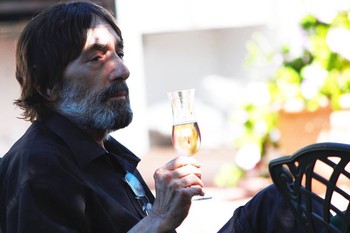 Philip Black, professor of Economics at Stellenbosch University between July 1988 and December 1990, passed away on 19 June 2015 at his home in Cape Town. Professor Black was well-loved by his students and highly respected by his peers. After his initial stint at Stellenbosch Economics, he was from 1993 contracted by the department on a part-time basis to teach and provide research supervision to postgraduate students. His association with Stellenbosch Economics was more formalised in 2002 when he was appointed as a Professor Extraordinary for a three-year period, still on a part-time basis. This appointment has numerous times been renewed and he was serving a term ending December 2016 at the time of his death.
During his career, Philip Black was also Jagger Professor of Economics and Director of the School of Economics at the University of Cape Town, as well as Professor and Head of the Department of Economics and Economic History at Rhodes University. In addition to his academic career, Professor Black held positions as Research Director of the Corporation for Economic Research (CER), of the Africa Institute for Policy Analysis and Economic Integration (AIPA), and of the South Africa Foundation. During the early 1990's he served on the Economic Advisory Council of State President FW de Klerk and was also a member of the Committee for Economic Sciences of the Human Sciences Research Council. He served a term in a part-time capacity as Chief Economist at the Department of Economic Development and Tourism of the Western Cape Government. Professor Black was also a past Managing Editor of the South African Journal of Economics and a past President of the Economic Society of South Africa.
Laboratory for the Economics of Africa's Past (LEAP) launched at Stellenbosch
Posted by Johan Fourie on 2015-05-30
​
South African research into economic history has gained momentum with the launch of the Laboratory for the Economics of Africa's Past (LEAP) at Stellenbosch University on Wednesday, 27 May.
"LEAP brings together scholars and students interested in understanding and explaining the long-term economic development of Africa's diverse societies," says Dr Johan Fourie of the Department of Economics.
"Studying the historical development of an economy provides a context for existing challenges and a source of hypotheses to explain the trajectory of its evolution."
Read the full article here, visit the LEAP website, or like the LEAP Facebook page.
ReSEP website launched
Posted by Melt van Schoor on 2012-10-10

The Research on Socio-Economic Policy (ReSEP) group at the Department of Economics today launched a new website which will serve as a resource for researchers and policy-makers interested in issues surrounding socio-economic development in Southern Africa. Spearheaded by Professor Servaas van der Berg, the ReSEP group consists of members of the Department of Economics, contract research staff and graduate students, and developed around a long term research focus on issues of poverty, income distribution, social mobility, economic development and social policy. The new website contains information on ReSEP's involvement in various research projects, provides access to downloadable working papers, policy briefs, and other research reports produced by members of the ReSEP team, and will in time also provide access to further learning and training materials for policy-makers, researchers, students and others interested in policy debates. Visit the new website at http://resep.sun.ac.za/.
Login
(for staff & registered students)

BER Weekly
24 April 2017
The domestic economic data calendar was relatively busy last week, with key data releases from Statistics South Africa painting a mixed picture for the 2017Q1 GDP outlook. On the one hand, mining output came out much better than expected, but manufacturing production disappointed. These releases, as well as the latest consumer inflation and retail sales...
Read the full issue

BER Weekly
24 April 2017
The domestic economic data calendar was relatively busy last week, with key data releases from Statistics South Africa painting a mixed picture for the 2017Q1 GDP outlook. On the one hand, mining output came out much better than expected, but manufacturing production disappointed. These releases, as well as the latest consumer inflation and retail sales...
Read the full issue